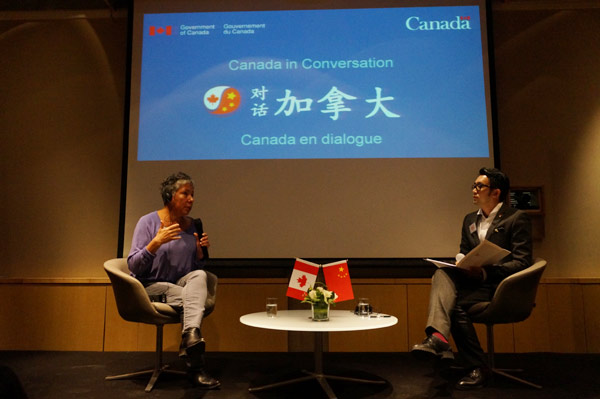 Renowned Canadian artist Rebecca Belmore and Gao Peng, director of Today Art Museum, had a dialogue on contempoary arts on Jan 29 at Canadian Embassy in Beijing. [Photo by WANG RU / CHINA DAILY]
A Canadian contemporary art exhibition, The Transformation of Canadian Landscape Art: Inside & Outside of Being, will be on display through March 8 at Today Art Museum in Beijing.
The opening ceremony of the exhibit, the second stop of the show that debuted last August in Xi'an, northwest China's Shaanxi province, was held on Jan 31.
The Canadian Ambassador Guy Saint-Jacques, Yang Chao, director of Xi'an Art Museum and Gao Peng, director of Today Art Museum, and the exhibition's Canadian curator Zhou Yan attended.
Fifteen top Canadian artists including Rebecca Belmore, a renowned First Nation artist, have on display diverse and cutting-edge artworks that include installation, painting and visual arts.
On Jan 29 at the Canadian Embassy in Beijing, the event Canada in Conversation brought together Canadian and Chinese counterparts.
Gao Peng had a face-to-face conversation on contemporary arts with Rebecca Belmore, who was on her first visit to China.
Just like Shanshui Hua (paintings of mountains and waters), landscape art has played a major role in early Canadian art history, which still thrives in the popular culture today.
Some Canadian artists have transformed the landscape genre into a much more diverse practice.
"As an artist who is indigenous to Canada, my work continues to be invested in understanding how we have come to the places where we find ourselves today," said Belmore.
As the fi rst native woman to represent Canada at the Venice Biennale (2005), Belmore confronts Canada's continued impact on First Nations peoples and through her practice subverts both historical and contemporary power structures to release and empower her people.
"We hope this exhibition can create a rich and meaningful dialogue between Canadian art and Chinese art, one that can embrace both the past and present art of both nations, and awake an awareness of facing a shared reality. We now live in a radically changed world of nature, in a crisis which requires that we transform ourselves," Gao said.
The exhibition also opened the curtain on a series of cultural exchanges.
"Cultural exchanges – in fine art, performing arts, literature, and film – are a key and growing part of our ties and off er many Chinese their first impressions of Canada, and vice versa," the ambassador stressed.