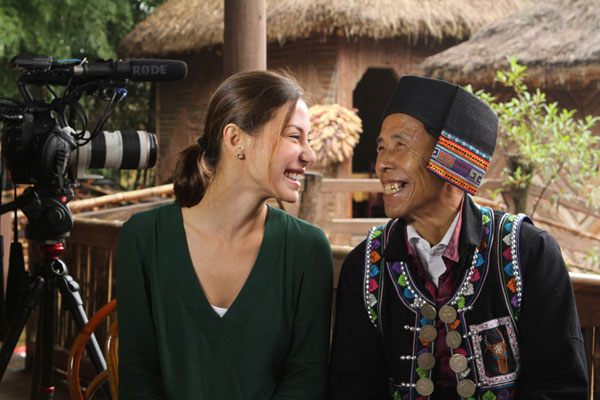 TV host Denise Keller with a villager of the Hani ethnic group in Yunnan province.[Photo provided to China Daily]
The first episode of Passage to China, a three-part documentary co-produced by China's Ministry of Culture and Discovery Networks Asia-Pacific, is set to be aired on Feb 21 on the network's Travel & Living channel across 37 countries in 15 languages. The show will have three 45-minute episodes that will seek to look at Chinese culture through a wide range of topics from the fine arts to food.
Following a five-minute media preview of the documentary on Monday in Beijing, Zhang Fang, senior vice-president and general manager for Discovery in China, called it his channel's first production focused on Chinese culture.
"We've produced many films on China's landscape, science, environment and nature, but we want something different this time," Zhang says. "China's diverse culture is a perfect topic for us to make such a change, but it will be more demanding for storytelling techniques."
With Discovery's international revenues surpassing its domestic United States market, the network is turning its gaze at increasing global audiences, he adds.
"More seasons for this show will possibly follow if the results go well. When more and more elements are involved in the project, Passage to China can become an encyclopedia of Chinese culture in 10 years."