Oprah Winfrey to auction collectables for charity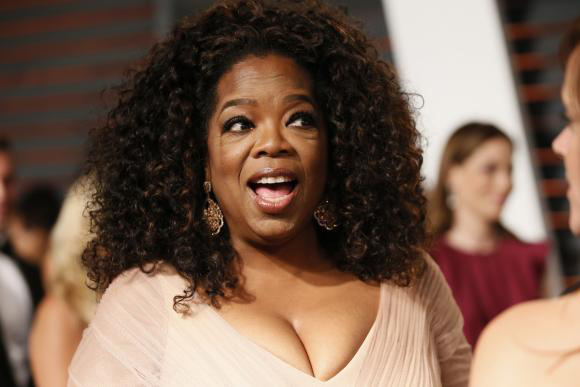 Oprah Winfrey arrives at the 2015 Vanity Fair Oscar Party in Beverly Hills, California February 22, 2015. [Photo/Agencies]
Actress and media magnate Oprah Winfrey is selling antique furniture, paintings, prints, ceramics and memorabilia from her Chicago apartment next month to benefit her education foundation, the auction house running the sale said on Tuesday.
The 571 lots in the Chicago sale on April 25 are mostly from her downtown condominium. Leslie Hindman Auctioneers said proceeds from the auction will go to The Oprah Winfrey Leadership Academy Foundation, which supports her education academy for girls in South Africa.
"She is an excellent collector, very well educated," Hindman said about Oprah. "She has lots of different interests and over the years she has collected all sorts of different things."
The top lot in the sale is expected to a painting by American Impressionist artist Richard Miller called "Nude in Red Robe," which has a pre-sale estimate of $80,000 to $120,000. Various other paintings are expected to sell in the $20,000 to $40,000 range.
Estimates for the total one-day sale and the complete catalog were not immediately available. In addition to the in-house auction, potential buyers can also place bids online.
Lots from the sale, which will also include china, porcelain, fixtures, clothing and accessories, will be exhibited ahead of the auction from April 16 to 24.
Winfrey, 61, is one of the richest and most powerful celebrities in the United States. Forbes magazine estimates her net worth at $3 billion.
Earlier this month the former talk show host and philanthropist announced she would be closing Harpo Studios, where she filmed "The Oprah Winfrey Show" in Chicago.
She said she will be carrying on the legacy of the studios with programing for her cable television network (OWN), which was created in a joint venture with Discovery Communications Inc., from California
Winfrey, who was nominated for a best supporting actress Oscar in 1986 for "The Color Purple," appeared in the 2014 Martin Luther King biopic "Selma," and in the civil rights drama "Lee Daniels' The Butler" in 2013.
Related:
'12 Years a Slave' wins top British film awards as 'Gravity' soars