Jackie Chan records song for 2022 Winter Olympics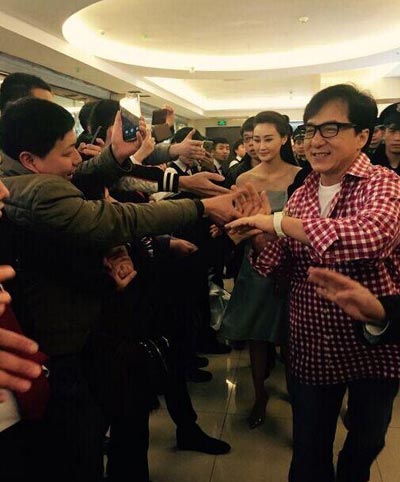 Chinese actor Jackie Chan [Photo/Beijing Evening News]
Chinese kung fu superstar and national political advisor Jackie Chan took time off during the two sessions and rushed off to a recording studio in Beijing's Chaoyang District on March 9 to record "Wake up Winter", the theme song for the application of the 2022 Winter Olympic Games.
"In the morning, I am working for the two sessions; in the afternoon, for the application of Olympics Games", Jackie Chan said with a sense of humor.
"'Wake up Winter' is actually a call to people around the world, an incessant eagerness for the Olympic Spirit and a longing for friendship between people and countries," songwriter Wang Jiuping explained.
A large number of well-known musicians both from home and abroad are working on the song including Zhao Jialin, one of the main composers for "Little Apple", the song which went viral last year.
Related:
Jackie Chan gives son a new haircut