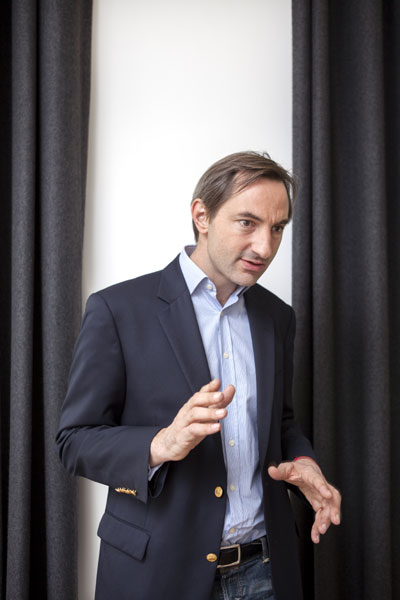 Hadrien de Montferrand is expanding his art business in China. [Photo provided to China Daily]
Beijing gallery owner Hadrien de Montferrand is presenting oil paintings by emerging artist Lu Chao at the ongoing Art Basel Hong Kong.
The oil work is a dramatic departure from Montferrand's previous offerings at Art Basel. Over the past two years, he has presented paper works from established Chinese artists, which his gallery specializes in.
This year, the French gallerist is backing Lu's solo shows, Black Mirror. The show features 30 works that Lu says reflect "a search for a faint shadow in a black mirror". It is part of the fair's Insights section from March 15 to 17.
Lu, 27, received a master's degree at the Royal College of Art in London, where he now lives.
Montferrand, 39, says the show celebrates the expansion of his art business to Hangzhou, Zhejiang province, in 2013. Four years after the opening of Hadrien de Montferrand Gallery in Beijing's 798 art zone, Montferrand launched the HDM Gallery in Hangzhou to promote work in all media by young artists and alumni of the city's China Academy of Art.
May marks the eighth year of Montferrand's involvement in the Chinese art world. He says Art Basel came to Hong Kong at just the right moment.
The fair inaugurated its Asian show in 2013 by merging with ART HK, the city's premier art fair.
"ART HK operated for many years. It has brought a lot of professionalism and collectors to Art Basel that is already quite big. The new show really puts Asia on the map of the art market," Montferrand says.
"We see a lot of Asian collectors in Hong Kong, which you don't see in the States or Europe."
Above Montferrand's gallery in the 798 art zone is his spacious office. He works at a large, antique Ming-style desk. Above the desk is a lamp he made from 99 wine glasses.
As the son of a diplomat, Montferrand traveled a lot with his family at a young age. He has been exposed to different cultures all his life.