Lamb soup good for very long journeys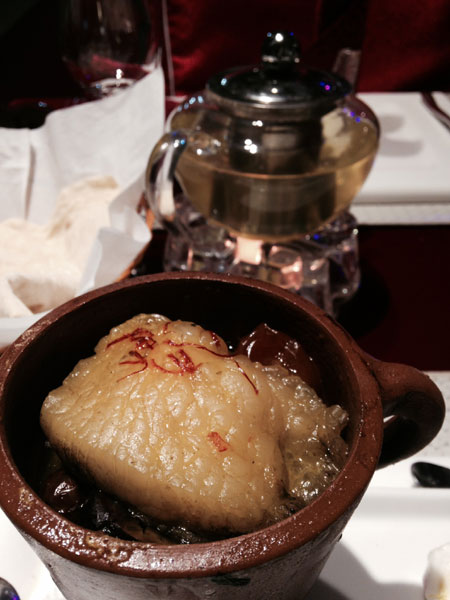 A layer of fat does much more than add flavor in the making of piti. [Photo by Mike Peters/China Daily]
One of the odd things about being a food writer is that when you order a meal at a restaurant, you don't necessarily order the food you most want to eat.
All brown meat and sauce? Doesn't make a good photo.
That yummy-sounding garlic chicken? Probably tasty, but is it a good story?
Sometimes such thinking doesn't pay off: You get your second-choice food and a second-rate photo and not much to talk about.
But sometimes you get something like piti, the top item on the soup list at Caspi. The menu didn't say much about this "lamb soup", but the photo showed it being served in a cinnamon-colored clay jar, alongside swooshes of dried herbs in appealing red and green.
Has to be a story there, right? And how can you go wrong with lamb soup, anyway?
The soup duly arrives, and at first I'm a bit put off. The top of the clay vessel is filled with a thick, squishy layer of pure lamb fat, yellow-white and artery-clogging. I poke at it gingerly, peeling up a corner and then pour into the provided bowl a savory melange of lamb bits, white beans, chickpeas, a preserved apricot, garlic and onion.
The aroma is heavenly, and about to be more so. I sprinkle in a bit of the green herbtarragonand a sweet hint of licorice rises from the bowl. The dried red herb, meanwhile, is sumacbarberry in its fresh or pickled form. That savory, slightly bitter spice changes the dynamic again as I try to find the prefect balance.
Then comes the bonus: Restaurant owner Ceyhun Shurakov tells me that the scary layer of fat I'd been so eager to discard not only adds flavor (like bacon does), but it's an ancient way of preserving such dishes so they can be toted on caravans. It makes a natural seal as it cools, just as paraffin does in modern jelly-making.
I was amazed to hear that this would keep the hearty soup eatable for up to two months.
It's so delicious, however, that it must have taken tremendous will power for Silk Road merchants to save it for that long.
The author is a food writer for China Daily.