Foreign staff welcome diners at Nanjing restaurant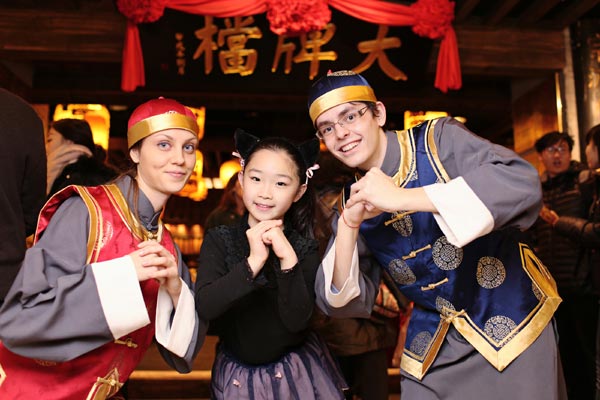 Customers pose with foreign waiting staff to celebrate the New Year at Nanjing Impressions, a restaurant that specializes in the city's local dishes. Photo provided to China Daily
Nanjing Impressions, a restaurant that serves traditional dishes from the Eastern China city, recently invited foreigners to pose as waiting staff at its chains to welcome the New Year. The foreign waiting staff greeted customers and posed for pictures with them.
Nanjing Impressions was set up in 1994. The restaurant offers dishes typical of the region that are prepared with original ingredients.
The restaurant's decor is traditional South China style, with private rooms named after the ancient gates of Nanjing. Waiting staff wear traditional Nanjing clothes.
The chain, which also has restaurants in Beijing and Shanghai, has become one of China's top places to eat traditional Nanjing dishes.
Related:
Guts go for new glory as restaurant seeks modern appeal