Savouring the past of the old city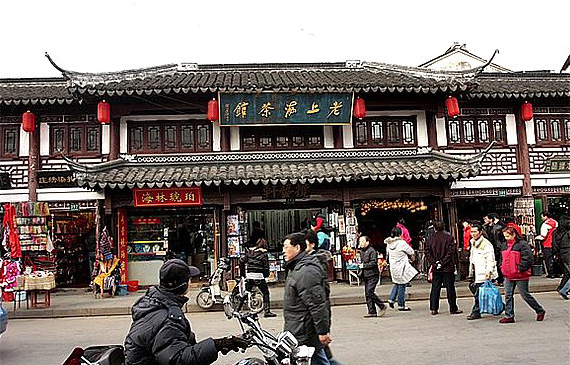 [Photo/CNTV]
The Old Shanghai tea house is an exquisite destination for tourists and locals alike. Not only is it a place to kick back and sample some of China's most quality tea, but it's fabulous architecture and furnishings also allow visitors to get a feel of the old city.
This is the traditional urban core of Shanghai. Centuries of history and tradition can be seen and tasted here. The Old Shanghai tea house is situated near the Yuyan Gardens and the streets are always bustling with activity outside the tea house.... but inside it is a whole different story.
The ornate exterior is nicely matched by the decorative interior. Frame prints and paintings adorn virtually all of the wall space and the windows allow plenty of natural light and offer great views of the colourful procession of people outside.
Being more than just a tea house, visitors here can take a stroll down memory lane with all the paintings and furniture behind me that reflect life in Old Shanghai.
The ornaments are presented in chronological order. They range from the late Qing Dynasty to the time around the founding of the People's Republic of China.
"I consider the tea house a kind of installation art. Now for me, art is about inspiring and touching people's hearts. The tea house is four dimensional, apart from the usual three dimensions, time serves as a fourth dimension. With our interior decorations we take people on a journey through time," owner of the Old Shanghai Teahouse Zhang Jianming said.
"Now to one side, are items from the times past, while on the other side we have the present outside the window below us. It is quite inspiring. And people have had wonderful experiences here. Many of them have expressed this in the notes from visitors."