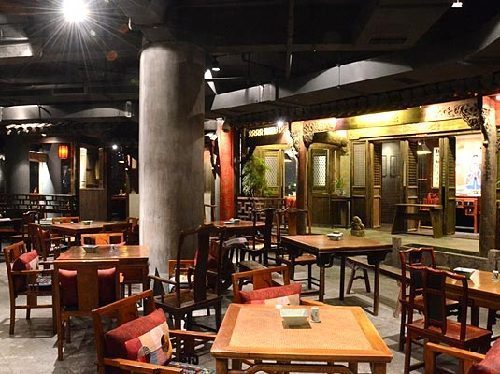 [Photo/CNTV]
Some of the interesting items include typewriters and refrigerators used in the 1940s. Shanghai was already a very modern city back then, as seen in posters of film stars and this painting of a famous swimmer.
Old Shanghai snacks are also featured here. Visitors can choose from a great variety of snacks including spicy noodles, veggie stuffed wontons, rice dumplings and Shanghai-styled steamed buns.
"We want to present a comprehensive experience for our visitors and we pay great attention to our food. They are made strictly using traditional procedures and there are no artificial flavourings. That's why many people from overseas also really love to come here," Zhang said.
But the heart of the tea house is always the tea. The menu offers all the staples of Chinese tea: Keemun black tea, Jasmine, Lung Ching and Tie Kuan Yin. An elaborate tabletop presentation of making tea is also available. Called a gong fu service, it involves a handful of procedures before taking a sip including smelling the aroma of the tea.
As a collector of old things, the owner has a wide array of items for selection to be placed in the tea house. He is also constantly adding new items to his collection. Perhaps it is this interesting combination of the old, yet new treasures, that is so alluring about the Old Shanghai tea house.