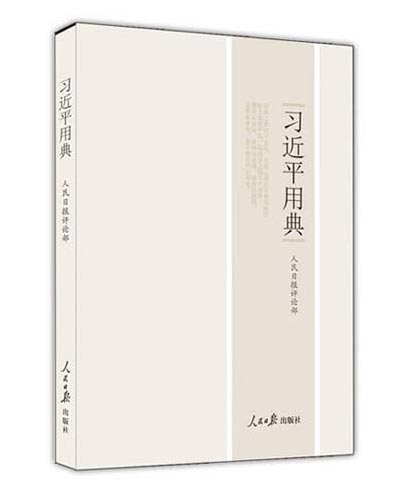 Book cover of Chinese President Xi Jinping's latest book Xi Jinping's Quotes. [Photo/Agencies]
Chinese President Xi Jinping's latest book, Xi Jinping's Quotes, was published on Sunday in Beijing. The 13-chapter book is a compilation of 135 frequently used quotes by Xi on how to govern the country. The quotes have been interpreted in today's context.
Most of Xi's quotes come from Confucius classics, such as the Analects of Confucius, The Book of Rites, Mencius, Xunzi, and The Book of History. Other quotes are from ancient Chinese classics, such as Laozi, Hanfeizi and Mozi.
It seems the quotes from the greatest minds are not only a good reference to understand Xi's governing philosophy, but also help to comprehend the seemingly abstract "Four Comprehensives" recently put forward in People's Daily newspaper.
In charting China's future development, Xi said the Party would comprehensively build a moderately prosperous society, deepen reform, govern the country according to the law, and apply strictness in rulingthe party.
A quote from Zhang Juzheng, a central political reformer from China's Ming Dynasty(1368-1644), echoes similar sentiment in the book when his quote was used to address the central government's prudence and ambition in deepening reforms.
In a letter to a provincial governor, Zhang said: "To contemplate on the situations, and make careful consideration before making any movement, there is no such thing that couldn't be achieved." Correspondingly, Xi urges Party members to have a strategy before making a move, and to break free from stereotype thinking, which was formed by China's institutions and cemented by the pursuit of personal interests.