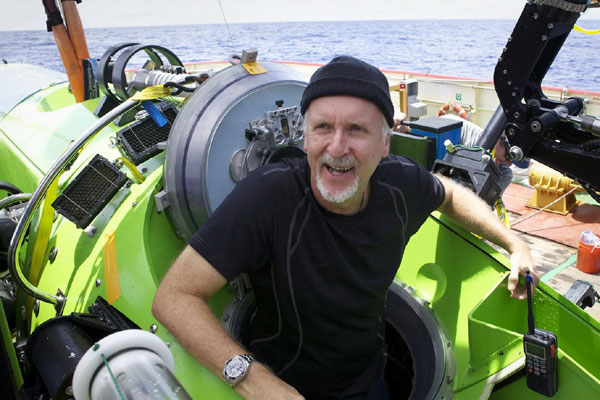 Director James Cameron piloted a submersible to dive into the Marianas Trench in his documentary Deepsea Challenge 3D.[Photo provided to China Daily]
Canadian director James Cameron has two passions - moviemaking and deep-sea diving.
His Chinese fans were in for a visual treat when a documentary movie recently screened on the mainland had the director of Titanic and Avatar undertake a challenge to dive to the world's deepest known pocket.
Deepsea Challenge 3D, shows Cameron diving around 11,000 meters into the Marianas Trench in the Pacific Ocean.
He piloted a submersible designed and made by his engineering team after a seven-year exploration and more than 10 test dives. He claimed the adventure realized a "lifelong" dream, according to Reuters.
"It's such an internal drive for him, that once he's started that train, it's not going to stop. This isn't an option for him. He has to do it," his wife Suzy Amis is shown as saying in the documentary.
"It's a true story, so it looks like a science-fiction movie," Cameron said in a video message to reporters in Beijing on Feb 10. He added that he didn't direct the documentary.
His team of documentary moviemakers and the National Geographic Society helped to get him into the Marianas Trench, he added.