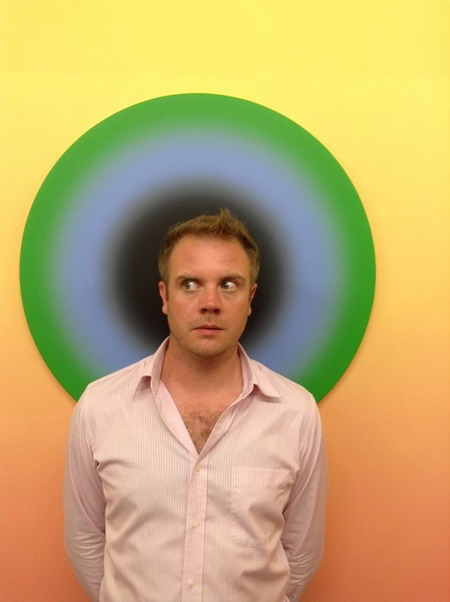 Tom Pattinson in front of artwork at a SURGE Art Beijing exhibition in 2014.Photos Provided to China Daily
Brit champions emerging Chinese artists and idea that collections are no longer a luxury
Tom Pattinson is a big fan of art and adventure. The British national combines both his passions by nurturing a platform that showcases affordable art by artists in China.
While Chinese tycoons spend millions of dollars buying art by Van Gogh and Claude Monet, Pattinson, the founder and director of SURGE Art, takes a different approach.
SURGE Art is based in Beijing and exhibits and sells Chinese contemporary art priced between $30 and $5,000, aiming to meet the needs of China's burgeoning economic and cultural middle class.
The 35-year-old's decision to launch Affordable Art China in 2006 and SURGE Art in 2012 came from his experience in China when he came to work in the country ten years ago.
"In other countries, you can go to any small town, any city, anywhere in Europe or America and you will probably find little galleries selling good-quality works of art for maybe just 200 or 300 pounds ($300 to $450)," he says from a Beijing cafe.
Such opportunities were rare in China a decade ago, when "everything being exhibited was incredibly expensive", he says.
"I thought there must be other people like me who weren't rich but wanted to buy some good art at an affordable price. I also got to know a lot of artists who didn't really have a platform to sell or show their work," Pattinson says.
In 2006, Pattinson, who laid the foundations for the arts and entertainment magazine Time Out Beijing, managed to draw huge crowds for the first show that showcased work by Chinese artists.