Themes of winners fail to connect with Chinese audience; fan favorites snubbed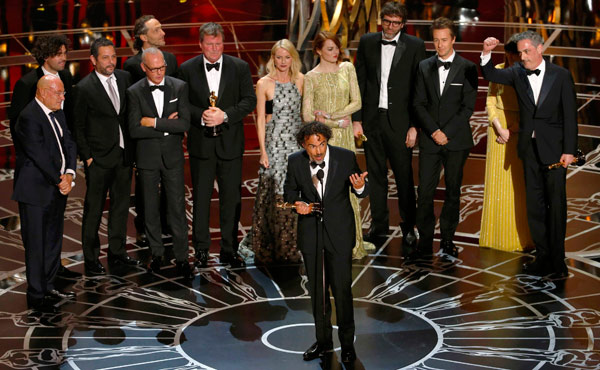 Director Alejandro Inarritu accepts the Oscar for best picture for his film Birdman during the 87th Academy Awards in Los Angeles, California, on Sunday with members of the cast and others. [Photo/Agencies]
The 87th Academy Awards, held in Los Angeles Sunday evening local time, took a new twist when a Chinese star failed to make an appearance.
That absence occupied more eyeballs in Chinese cyberspace than any winner or presenter.
Huang Shengyi was supposed to walk down the red carpet with Tom Hanks, with whom she is reportedly making a movie. According to unsubstantiated reports, she fainted at the last minute and was rushed to a hospital. It was also said that her hotel room had been robbed and her wardrobe stolen, which was apparently unrelated to the fainting.
Other unsubstantiated online reports claimed that all of the above was a mere show staged by Huang — or rather an attempt to upstage the biggest bash of global showbiz. Unlike Zhang Ziyi or Joan Chen, Huang did not seem to have work-related reasons to be present, but Chinese stars have long used such high-profile appearances to rub some glitter and boost their profiles. But judging from online feedback, Huang was not getting much sympathy.
Other than that, this year's Oscar party could probably be remembered for snubbing two of Chinese fans' favorite films. No, Transformers: Age of Extinction, China's biggest box-office hit of 2014, was not even counted here. Christopher Nolan's Interstellar and David Fincher's Gone Girl are both bona fide Oscar contenders, but only in minor categories, with Interstellar winning just one technical award. If anything, this testifies to the gap between Chinese fans of Hollywood fare and members of the Academy of Motion Picture Arts and Sciences in their choices of quality work and industry prestige.