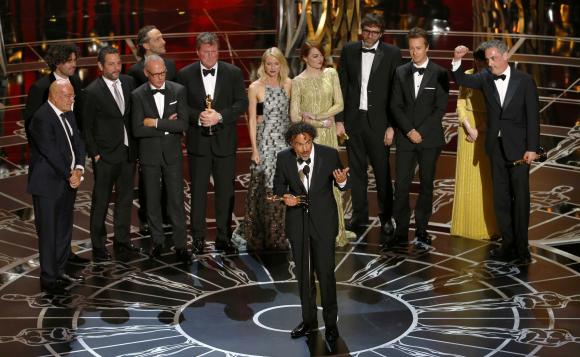 Director Alejandro Inarritu accepts the Oscar for best picture for his film 'Birdman or (The Unexpected Virture of Ignorance)'during the 87th Academy Awards in Hollywood, California February 22, 2015. [Photo/Agencies]
The dark comedy "Birdman" held up a mirror to Hollywood and its struggling actors and received in return the film industry's highest recognition on Sunday, the Academy Award for best picture.
Director Alejandro G. Inarritu's story of a washed-up, former superhero actor attempting an improbable comeback on Broadway won four Oscars, including best director, the second consecutive win in that category for a Mexican filmmaker.
Inarritu thanked the star-studded audience for seeing his "crazy film."
The reward for the satire hews to an Academy tradition of awarding films that honor the entertainment industry, such as "Argo" and "The Artist" in recent years.