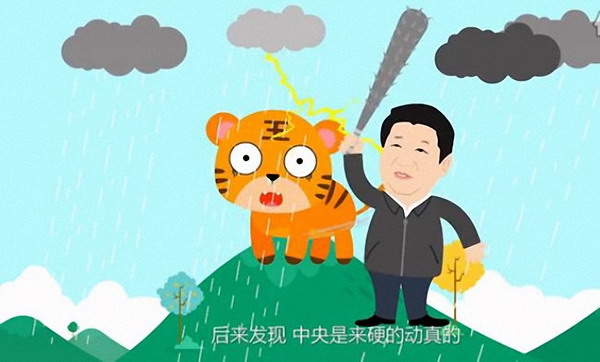 Scene from an animation shows President Xi Jinping in action.
Animations depict president close to the people and fighting corruption
The nationwide anti-graft campaign led by President Xi Jinping has reverberated among the public, with a series of animations about him and his political ideas becoming a hit on the Internet during Spring Festival.
Three clips featuring Xi and the campaign, each of which lasts about two minutes, compare the situation before and after the so-called mass-line campaign, the initiative aimed at cracking down on corruption and strengthening ties between officials and the people since 2013.
The first clip - Is the 'Mass Line' Campaign For Real? - shows how the central leadership has reduced public expenditures. For example, it says that last year the government auctioned off 110,000 vehicles and stopped construction on more than 2,000 government buildings.
The second clip - Is It Easier for the Public to Get Things Done with the Government? - presents difficulties residents once endured at government organs and how the situation has changed for the better, thanks to the efforts of the central leadership.
The third clip - Are Officials Really Scared? - highlights the worries of corrupt officials as illegal behaviors, such as accepting bribes, as well as unethical behavior, such as keeping mistresses, are exposed.
Xi in cartoon form is presented frequently in the clips. Sometimes he dines and talks with villagers as he visits the countryside, such as Lankao county in Henan province. Sometimes he waves a flag heralding the mass-line campaign.
The most frequent image is of Xi wielding a stick to beat a tiger, a reference to his crackdown on high-ranking corrupt officials.