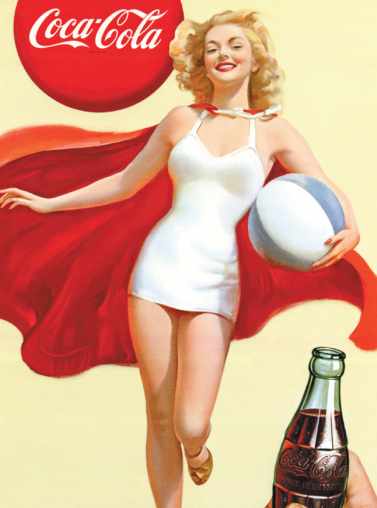 A South African advert from 1948.[Photo/China Daily]
As well as its classic taste and formula, Coca-Cola's distinctive packaging has undoubtedly played an important role in its success as a top-selling international soft drink.
The iconic Coca-Cola bottle was described by industrial designer Raymond Loewy as the "perfect liquid wrapper" and has become an influential symbol of design, art and culture.
Since the bottle was designed in 1915, more than 300 billion have been sold, according to the company's sales records.
To mark the centennial anniversary, the Coca-Cola Company is celebrating with a year-long campaign that includes a series of art exhibits featuring works from some of the world's leading contemporary artists including Andy Warhol, Norman Rockwell and Peter Blake.
More than 100 original bottle inspired artworks and photographs will be shown at an exhibition called Coca-Cola Bottle: An American Icon at 100.
The four-part exhibition honors the Coca-Cola bottle and its position in the worlds of art, design and commerce during the past 100 years.
Warhol's iconic black and white painting that features a Coca-Cola bottle will be part of the exhibition. The painting was sold for $35.4 million at a contemporary art auction at Sotheby's in New York in 2011.
Warhol created art from daily objects and also featured the bottles in his modern paintings. His green Coca-Cola bottles series from 1962 is part of a collection at the Whitney Museum of American Art in New York. The exhibit, which is presented by the High Museum of Art in the United States in collaboration with the Coca-Cola Company, opened to the public on Feb 28 and will run until Oct 4. It will also include original bottle prototypes and sketches.