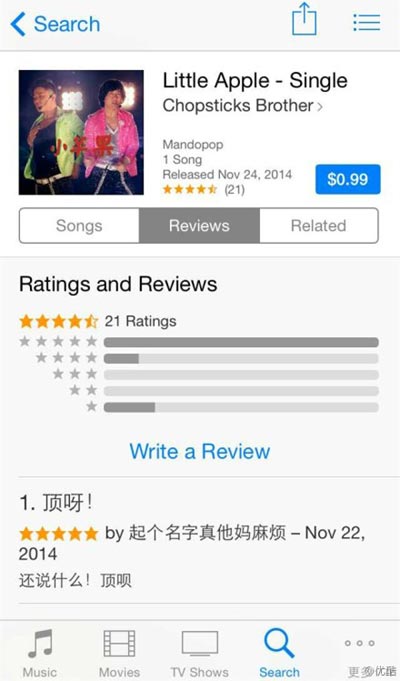 Chopsticks Brother became the first musical group to release their song on iTunes. [Photo/Sina Weibo/Youku]
Chinese Internet singing sensation Chopsticks Brother, who are in Los Angeles to perform their hit single Little Apple at the American Music Awards today, have become the first Chinese musical group to release their song on iTunes, according to the official Sina Weibo account of Youku.
This is the first time a Chinese "god" song (a term for songs that go viral on the Internet) will be showcased on the global stage. According to Youku, this is also the first time a single by a Chinese group is to go on sale on iTunes.
Little Apple has taken China's Internet by storm. Its MP3 received 579 million hits and the music video has been played 823 million times on China's major music and video streaming sites. According to Southern.com, the song has been played for at least 500 million listeners worldwide.
iTunes, developed by Apple Inc, is a media player and library used to play, download and organized digital audio and video on computers.
Users can purchase and download media files of their choice through the iTunes Store. Artists can release their latest songs on iTunes for their fans to enjoy. Taylor Swift's 1989 is currently topping the list of highest downloads.
What they say
Wangpu719: Maybe Apple will useLittle Appleas one of their ringtones.
dk0259: I am looking forward to their performance at AMA, haha, but I still think it's kind of funny to have a "god song" represent China.
cuianni: I guess it could be considered as a kind of breakthrough.
Related:
42nd American Music Awards held in Los Angeles
Chopsticks Brothers to perform Little Apple at American Music Awards