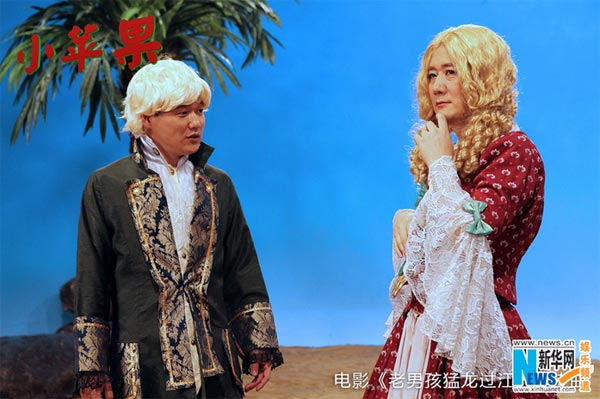 A screen capture of the Music Video of Little Apple. [Photo/Xinhua]
China's Internet singing sensation Chopsticks Brothers will perform their viral hit Little Apple at the 2014 American Music Awards, according to Southern.com.
Chopsticks Brothers – which consists of director Xiao Yang and musician Wang Taili - played a middle-aged singing duo in the film Old Boys: The Way of the Dragon. In the film, they sang Little Apple when they auditioned for an American music talent show and received a thumbs-up from the judges.
Now, life is following art.
The duo has confirmed their attendance at the AMA, an awards show second only to the Grammys in prestige. They will join renowned singers including Taylor Swift and One Direction to deliver a night of sensational music to the world.
"I did not expect the plot in our film to come true in real life," Xiao Yang said during an interview. "It seems unreal. We've worked on music for so long and after all these years, this is another story of dreams coming true for 'old boys'," said Wang Taili.
This is the first time a Chinese "god" song (a term for songs that go viral on the Internet) will be showcased on the global stage.
Little Apple has taken China's Internet by storm. Its MP3 received 579 million hits and the music video has been played 823 million times on China's major music and video streaming sites.
According to Southern.com, the song has been played to at least500 million listeners worldwide.
American Music Awards are awarded based on viewers' votes. South Korean singer Psy's Gangnam Style, which broke YouTube's most viewed video record, owes its global success to AMA.