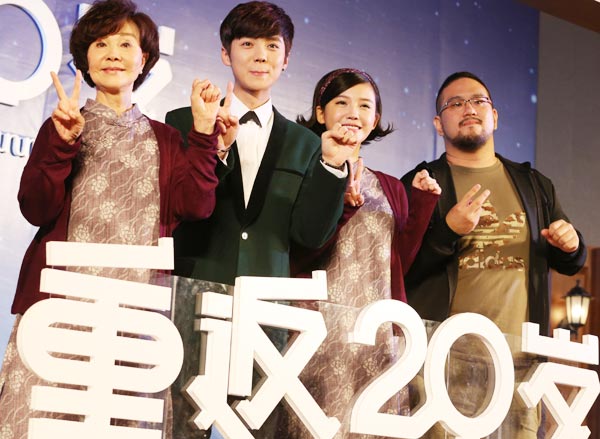 Taiwan-based actress Kuai Ya-Lei(left), Beijing-born actor Lu Han (second from left),Chinese actress Yang Zishan and director Leste Chen(right) at the press conference to promote Fleet of Time. Jiang Dong / China Daily
Taiwan-based evergreen actress Kuai Ya-Lei gets a life that almost every woman will dream of: turning the calendar back to her 20-year-old self at the age of 70.
The magical transformation, however, only exists in an upcoming movie, Miss Granny.
The Chinese-South Korean remake of a South Korean blockbuster with the same English name will be released across the mainland on Jan 15, according to a recent press conference to promote the fantasy romantic comedy.
Kuai, 70, was born in Changsha, Hunan province, and has been a star on both sides of the Straits. She says that the granny role feels very close to the actress' own life.
"The character's personality is similar to my own. I was surprised that the director, who I never met before, set such a role," she says, smiling.
The granny, stubborn and controlling, decides to take a self-portrait in a magic photo studio, and mysteriously morphs into the body of her 20-year-old self. Her fresh appearance but elderly tastes create a lot of funny moments.
Leste Chen, director of Miss Granny, reveals that the one-minute studio scenario cost 1 million yuan ($163,300), which earned the rising star in moviemaking circles the nickname "budget killer".