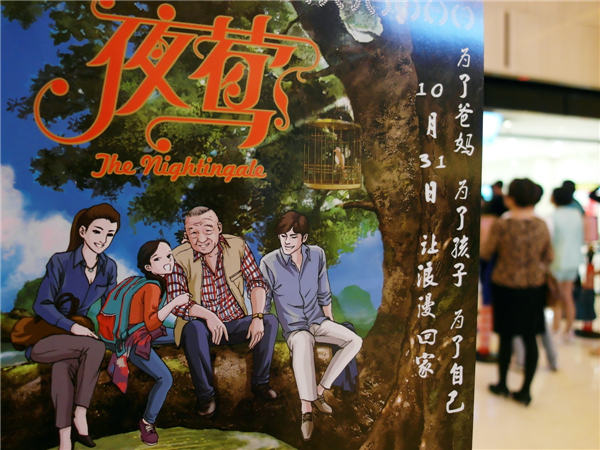 A poster of the French-Chinese coproduction The Nightingale at a cinema in Yichang, Hubei province, after its release in October. Photo provided to China Daily
China's candidate for a foreign-language film Oscar is not making much music at the box office, Liu Zhihua reports.
China's official entry to the 2015 Oscars for best foreign-language film, The Nightingale, is not performing too well at the box office. In the first three days of screening after its Oct 31 release, the movie earned only 1.2 million yuan ($195,900). Some 10 days into its run, box-office takings were about 4.96 million yuan, according to Cbooo.cn, a website on Chinese box-office statistics that is widely quoted by Chinese media. Movies that were picked as Oscar entries in the past were also huge box-office hits.
Film producers submit their entry applications to China's State Administration of Press, Publication, Radio, Film and Television, and the authorities then pick one to submit to the Academy Awards.
Chinese filmmakers have submitted an entry almost every year for the best foreign-language film category since the early 1980s. Only four of the entries got nominated, including Zhang Yimou's Ju Dou in 1991 and Hero in 2003.
In 1991, Ang Lee's Crouching Tiger, Hidden Dragon won the category as a Taiwan entry, which was a significant high point for the Chinese movie industry that year.
Thanks to extensive media reports on the award since then, Chinese movie fans have become increasingly aware of the Oscars, making China's entry a hot topic every year.
In recent years, even if a film has depth and gravitas, almost all of the Chinese entries were box-office hits before they got picked to compete for the Oscars. Those include Feng Xiaogang's Back to 1942, a 2012 movie that brought to light a famine in China's recent history that killed 3 million in one province, and starring Chen Daoming and Zhang Guoli, and lighthearted romances such as The Knot, directed by Yin Li in 2006.
The Nightingale, a small French-Chinese coproduction, took the public by surprise when it was picked earlier last month. Unlike the previous candidates, it had not even been released for general screening.
Directed by French director Philippe Muyl, whose work Le Papillon (The Butterfly) in 2002 won global success, the movie tells a story that resembles the French film-a nostalgic and rough journey in the Guangxi Zhuang autonomous region by an elderly man and his granddaughter, during which he finds peace with himself and mends his estranged relationship with his son.
Related:
China-France co-production 'The Nightingale' to debut
China selects 'Nightingale' for Oscar race