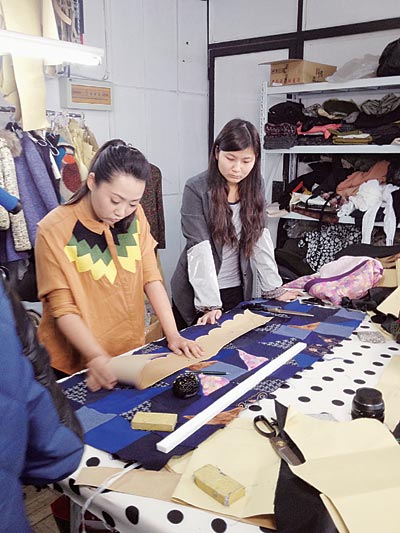 New look: Designer Zhang Na loves recycled fashion. Photo provided to Shanghai Star
While most fashionistas are seeking out the new looks of the current season, independent designer Zhang Na embraces outfits that are re-crafted from discarded clothes.
Since 2001, Zhang has used recycled clothing to make a third of the garments for her label, Fake Natoo. She calls the series her "re-clothing bank" to reflect her passion for old clothes and an ecofriendly lifestyle.
"I aim to create greater value from objects destined for the trash heap. Moreover, I want to link the person who donated the clothes, the designer, purchaser and the buyer. All of them are bound to this old item and share the stories and emotions buried inside," says Shanghai-based Zhang, 34.
This series of clothes, including pencil skirts made of dozens of denim patches and double-breasted coats made from seven pieces of cloth, is produced twice a year and they sell surprisingly well.
She plans to shift her focus to custom-tailor made garments.
"A woman recently approached me and asked if I could recreate some dresses that fit her from her recently deceased mother's old clothes. I was touched," she says. "I want to enlarge this side of the businesses to make re-crafted garments something like a gift with love and stories."
With recycling still a new and exotic concept in China, Zhang says it is completely understandable that re-crafted clothes are still a niche market.
"But fashion brands have begun to call for consumers to recycle clothes and to reuse them as materials for new collections, which has almost become a global trend," she says.
"I feel there's something of the same concept developing in people's minds in China. The only thing is, it may take time to grow," Zhang says.
Related: Second time around