Designer tells story behind APEC outfits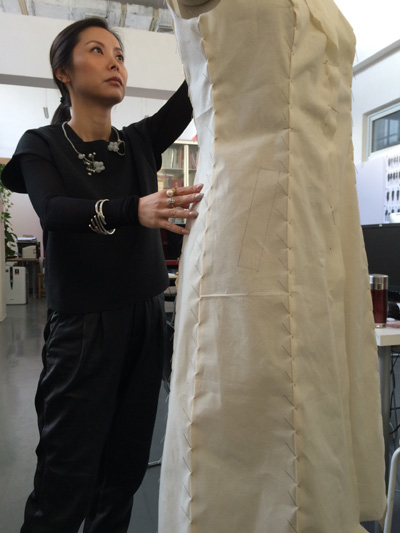 Zhao Huizhou at work. [Provided for chinadaily.com.cn]
Zhao Huizhou, a fashion designer from Shenzhen, is one of the core designers behind outfits for the leaders' spouses who attend the ongoing APEC Economic Leaders' Meeting in Beijing.
"The suits for the ladies cannot be that formal and a little bit casual, which left room for the designers in selection of materials, shapes and the use of different elements," she told China Daily in a phone interview.
Zhao was one of the 259 designers who got the invitation from the APEC organizer to design for the meeting at the end of 2013. Three months later, she was asked to send samples.
"I was thinking of a new material that will mix the silk with wool for the ladies, which would be very comfortable, natural and meanwhile, warm for Beijing's autumn," she said.
The designers has conducted research on Chinese history to find out the best patterns and materials, the habits of the leaders and the personalities of their spouses by reading books and watching videos before designing the suits, according to Zhao.
"It's hard to get the exact sizes, in most cases we looked at their pictures or got the images from TV to have a rough measurement," she said.
For the ladies' suits, the top is loose that can fit different body shapes, she noted.
Zhao, who is in a master's program in Milan, Italy, said Chinese fashion designers still have a long way to go to be reputable in the world fashion community.
"Chinese elements are special, but don't make a simple copy. We should catch the world trend and express it in an international way," she said.