Tonghua to transform into a wine city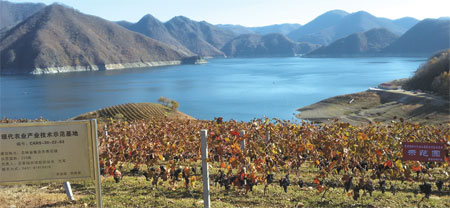 Tonghua, especially the Yalu River Valley, boasts fertile soils and favorable sunlight and humidity conditions for the growth of wild mountain grapes. Liu Mingtai / China Daily
Tonghua Grape Wine was the only wine served at the State banquet marking the founding of the People's Republic of China in Oct 1949.
In 1959, the wine was also served at China's State banquet and it won high praise from former premier Zhou Enlai.
Today, Tonghua, a city in Northeast China's Jilin province, after which Tonghua Grape Wine is named, is building on its legacy of wine production and aiming to become a wine capital that is known around the world.
Located in the Changbai Mountain area, Tonghua boasts plentiful natural and historical resources and a good ecological system. The city is home to traditional Chinese medicine, wine, ginseng, high-quality rice, Songhua Inkstone and skiing.
Tonghua boasts fertile soils and favorable sunlight and humidity conditions for the growth of wild mountain grapes. The city's forest coverage is 67 percent, 40 percentage points higher than the national average, and forest coverage in the grape-plantation area is as high as 85 percent.
Grapes grown in the pollution-free area have small seeds, thick skins, low-sugar content, high acidity and rich organics, making them ideal for producing wine.
Wine from the area has a ruby color and a rich balanced taste, with a fruity fragrance that is especially suited to Chinese tastes.
Grapes grown in the region's Yalu River Valley are particularly rich in substances such as proanthocyanidins and tannins.