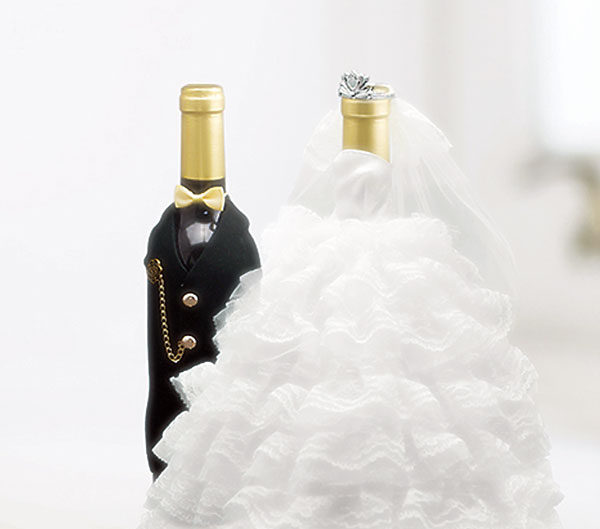 Lu Wenbin's miniature bridal gowns and men's morning suits make a fabulous addition to the wedding reception table and a charming keepsake. Photo provided to Shanghai star
Every woman wants her big day to be perfect, down to the tiniest detail. For one young lady, it meant that even the bottles of wine served at her nuptial dinner needed to be dressed accordingly. Zhou Wenting finds out more about the art of perfection.
Four years ago, Lu Wenbin's friend spent more than 400,000 yuan ($64,000) on decorations for her wedding, but still felt something was missing. One of her complaints was that the wine bottles on each table were "naked".
This became the motivating drive for Lu, then only 26, and a creative designer.
He decided to dress up the bottles, creating little miniature bridal gowns for the wines.
"Wine appears at almost all wedding receptions and I thought it would be an awesome idea if the bottles were all nicely wrapped up," he says.
Lu started on the design immediately and pictured them as down-sized versions of the wardrobe for both bride and groom.
"A woman wears a veil only once in her life, but I believe the wine 'wardrobe', which can be kept as souvenirs of the wedding, will allow the couple to retain the beautiful memories longer," says Lu, who, in May 2013, established the brand Zuoyou Zhijian, a label dedicated to the design and production of designer packaging for wine bottles.