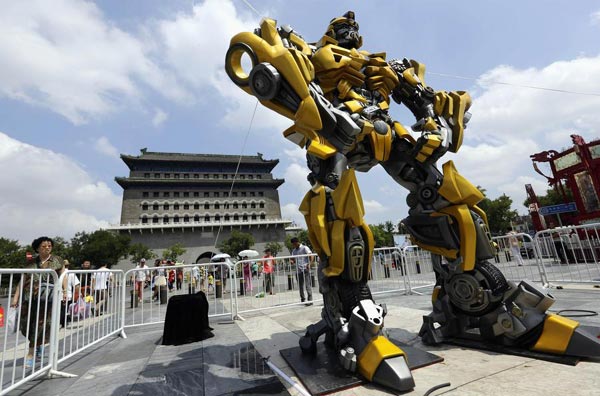 A model of the Transformers character Bumblebee is displayed in front of Qianmen Gate in central Beijing, June 20, 2014. The replica is part of a promotional campaign ahead of the world premiere of the movie "Transformers: Age of Extinction" on June 27 around the globe. [Photo/Agencies]
Chongqing Wulong Scenic Area announced on July 7 that it will sue producers of the Hollywood blockbuster Transformers: Age of Extinction for failing to show its logo in the movie.
Wulong Scenic Area said it signed a deal with producers of the movie in October. The movie's producers promised to show the logo of the scenic spot on the big screen as a product placement. However, the logo is nowhere to be found.
Huang Daosheng, general manager of Chongqing Wulong Karst Tourism Group, the company that operates the scenic spot, said that it will sue both Paramount Pictures and the movie's associated Chinese production company, 1905 Internet Technology Co Ltd of Beijing, requiring them to take responsibility. Love it or hate it, Transformers will have you transfixed Transformers dominates China box office
"The failure to show the logo of the scenic area in the movie has caused confusion among the audience as well as bringing about commercial losses to the scenic area's tourism industry," Huang said.
He declined to disclose the specific compensation amount the company is seeking.
As the fourth installment in the franchise, Transformers: Age of Extinction has been a huge success in the world's second-largest film market since its debut on June 27. So far, this movie has grossed 1.36 billion yuan ($219 million) in China, according to the figures from EntGroup Consulting, a Beijing-based entertainment industry consultancy.
The third installment of the series, Transformers: Dark of the Moon, which was released in 2011, raked in $165 million in China and more than $1.124 billion worldwide.
Related: Blockbuster 'Transformers' criticised for smoking shots in China