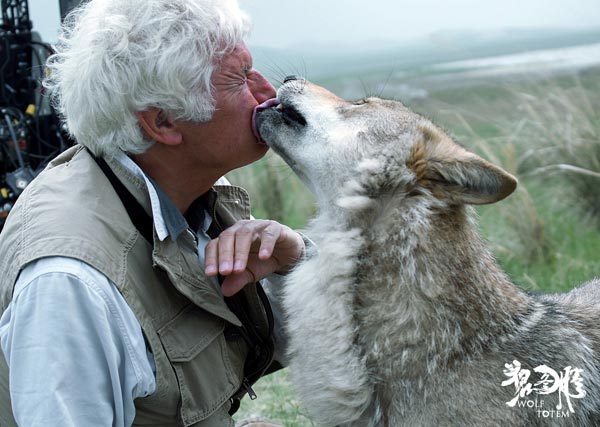 Working with wolves poses a great challenge for director Jean-Jacques Annaud in Wolf Totem, a movie adapted from a Chinese best-seller. Photo provided to China Daily
From the first day he was on the set, Feng Shaofeng had known he was not the biggest star.
The 36-year-old actor, a heartthrob for young Chinese women, was led to a camp to meet 16 wolves, which had been training for two years.
Under the direction of French director Jean-Jacques Annaud, Feng and the wolves co-star in Wolf Totem, a Sino-French co-produced epic based on Chinese writer Jiang Rong's 2004 best-seller by the same name.
It's the story of the life-defining days a young student spent with nomads and wolves, during the "cultural revolution" (1966-76), that brings Feng and the wolves together on the grasslands of the Inner Mongolia autonomous region in northern China in 2012.
Feng was excited to meet his co-stars, but Canadian wolf trainer Andrew Simpson asked him to calm down. He told Feng wolves do not like excited people, and if they do not like someone at the first sight, they will never like him.
"I was so nervous," Feng recalls. "The feeling was like I was requesting the approval of a superstar, who would ask the director to cast me aside immediately if he doesn't want to work with me."
These clever creatures posed a great challenge for 71-year-old director Annaud, too, although he is acclaimed for The Bear and Two Brothers, two brilliant films respectively on bears and tigers.
"Wolves are so special," Annaud says. "Wolves are masters of their own. You can never force them to do things they don't want to do."