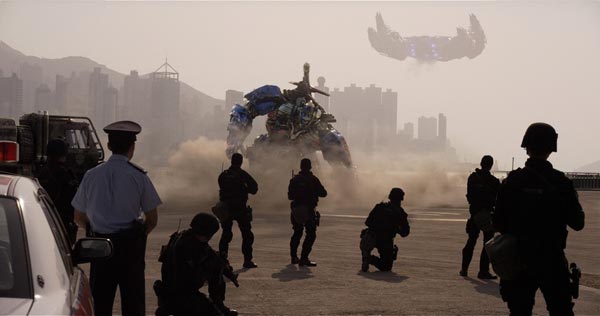 Hong Kong is the location for some scenes from Transformers: Age of Extinction, the latest movie in the Transformers series. Photo provided to China Daily
The placement of Chinese products in Hollywood movies is big business, but as Raymond Zhou finds, there may be a bumpy road ahead.
A dramatic prelude played out like pre-show entertainment before the new Transformers movie hit Chinese screens.
Barely a week before the Hollywood franchise opened in China, a Beijing property developer launched a tirade against Paramount, the Hollywood studio behind the Michael Bay movie.
Beijing Pangu Investment Co Ltd reportedly paid a 10 million yuan ($1.6 million) product placement fee to have images of its eye-catching building featured in the movie, among other benefits. Pangu is one of several Chinese companies with product placement deals with the new installment of the Transformers movie.
When the third Transformers movie rolled out in China in 2011, it grabbed headlines for a slew of embedded advertisements of Chinese products - an unprecedented four. All of them received wide coverage in the Chinese press.
Before the Pangu controversy came to light, I was interviewed by The New York Times and said that product placement seemed to be a new mode of cooperation between China and Hollywood. Chinese businesses have found a new way to capitalize on the popularity of Hollywood blockbusters and Hollywood does not have any qualms about absorbing the free flow of Chinese money.