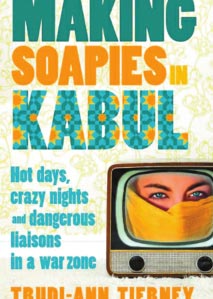 Making Soapies in Kabul
By: Trudi-Ann Tierney
Publisher: Allen & Unwin
Year Published: 2014
Price: $30
Pages: 304
Provided to China Daily
Book Talk: Trudi-Ann Tierney
To help keep herself safe and sane while making TV dramas in Afghanistan, Australian producer Trudi-Ann Tierney devised an ever-more elaborate game of hide-and-seek in her head in case the Taliban launched a surprise attack.
Imagining what it would be like to hide in a wardrobe, the middle of a lake or buried among a herd of goats, she mentally weighed the pros and cons of them all, as she explains in her new book Making Soapies in Kabul.
A chain smoker who lived in the most polluted city in the world, she endured typhoid problems, six different types of stomach bugs and pneumonia during what she says was the most exhilarating experience of her life.
What were you doing there?
My first job in television in Kabul was to write an eight-part drama serial for our Pashtun audience sponsored by a foreign embassy. It was to contain messages to counter narcotics. This concept of doing messaging through drama serials as opposed to a billboard was a very new idea in Afghanistan, where 86 percent of the country is illiterate.
What were some of the hardships?
Intense heat, working through Ramadan and crews working strictly to rule. Initially I thought I could lead by example: I'd lug a beach umbrella and a makeup kit up a hill in 40 C heat. I coaxed, I wheedled, I joked, I jabbed ... and finally, I yelled!