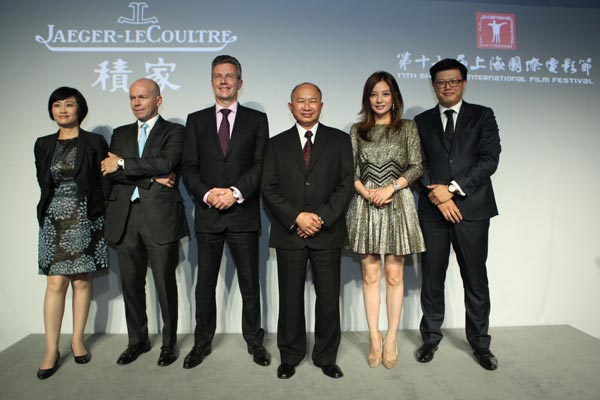 Actress Zhao Wei and John Woo (second and third from right) at a benefit auction. Provided to China Daily
While a timepiece reminds anybody of the irreversible flow of time, a good
film
makes time stand still. Yet, with a common commitment to preserve precious cinematic history, a watch manufacturer and a film festival are ushering in their fourth year of collaboration.
Partners since 2011, Swiss watch brand Jaeger-LeCoultre and Shanghai International Film Festival have been working to restore classic Chinese cinema over the past three years.
Jaeger-LeCoultre has financially supported the restoration of nine old Chinese films in cooperation with the festival, which launched its 17th edition on June 14.
The most recent turnout is Stage Sisters, a 1964 drama by the late maestro Xie Jin - the first time an old film was chosen to open the festival.
The 181-year-old watch manufacturer also hosted a benefit auction during the festival to promote the protection of precious cinematic classics. Up for bid was Jaeger-LeCoultre's Duometre Unique Travel Time watch with "SIFF 2014" engraved on the side. French director Jean-Jacques Annaud donated props with commemorative significance - most notably a morin khuur (horsehead fiddle) from the set of his latest film, Wolf Totem. The film is set in China and stars Chinese actors Feng Shaofeng and Shawn Dou.
All proceeds from the event will be used to support more restorations here.