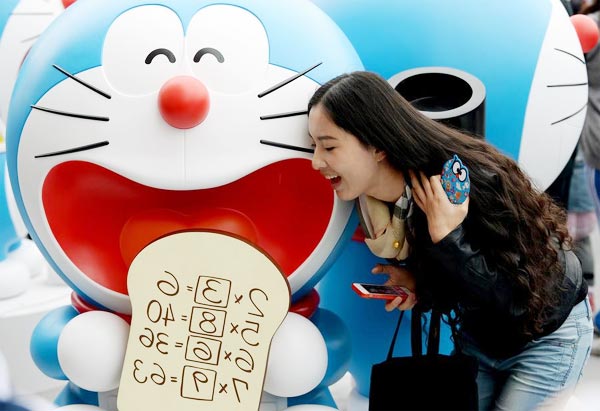 A visitor poses for a photo with a Doraemon figure at an exhibition of "100 Doraemon Secret Gadgets Expo" in Beijing, capital of China, April 19, 2014. [Photo/Xinhua]
SHANGHAI -- "Hi everyone, I am Doraemon. Shanghai is beautiful, I am glad to be here, please have fun watching the movies," Wasabi Mizuta told an audience at the ongoing Shanghai International Film Festival.
"It is the voice of Doraemon," a child screamed.
Mizuta is a Japanese voice actress and the voice of Doraemon, a Japanese robot cat from the 22nd century who has a magic pocket filled with gadgets.
The 17th Shanghai International Film Festival kicked off on Sunday. This year's eight-day event features Japanese Film Week with 11 movies, including three animations.
Mizuta told the Chinese audience Doraemon animations are "about courage, friendship, coming of age and world peace".
"Doraemon: New Nobita's Great Demon - Peko and the Exploration of Party of Five" will be screened during the festival.
Another Japanese star Tokiwa Takako has brought her latest work "49 Days" to the festival.
Chinese filmgoers are big fans of Japanese movies. On Douban.com, the "Japanese films" group has more than 30,000 members with over 80 sub-topics.
"Japanese films are sensitive and touch the heart," said a movie fan surnamed Jiao.
Shinosuke Yakuwa, director of the latest Doraemon film, told the festival that Shanghai is likely to be one of the locations for a future Doraemon story.
Doraemon's big-screen debut was in 2007 and made 23 million yuan (3.17 million U.S.dollars) at the mainland's box office.