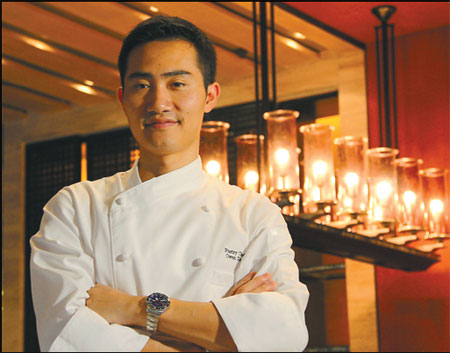 Xiao Guodong is pastry chef at Shenzhen Four Seasons Hotel. [Photo provided to China Daily]
"My job is to create happiness," says Xiao Guodong, pastry chef at Shenzhen Four Seasons Hotel. "When you make a wish in front of a birthday cake, it is all about leading a happy life."
Xiao, a 31-year-old born and bred in Guangzhou, Guangdong provincial capital, has been making pastries for almost 15 years, or nearly half of his life. He was the winner of the China Chocolate Master Competition and making an array of cakes, chocolate and dim sum are a piece of cake for him.
"I feel challenged to work in different places and experience different cultures," says Xiao with a smile. He has worked in many cities, from Hangzhou to Dubai, before joining Shenzhen's Four Seasons Hotel. "I like working and traveling abroad. I gain inspiration from it."
Xiao is obsessed with mastering the art of desserts and has honed his craft at global hotel chains. When he was in Dubai, inspiration came from all around him.
"Local taste is important," he says. He made very sweet desserts in Dubai, and worked to improve his craft in decorating his pastries to attract local customers. "People in Dubai have a very sweet tooth."
And what about his own taste for sweets?