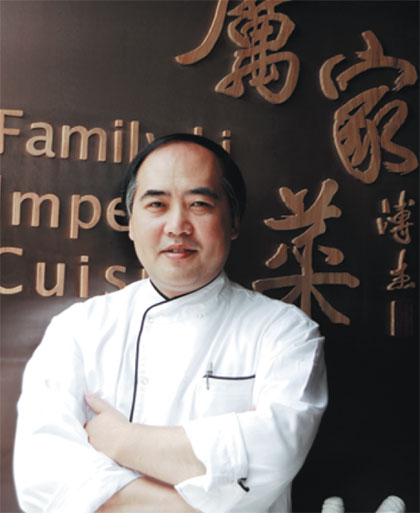 Chef Ivan Li is the inheritor of Family Li Imperial Cuisine. Provided to China Daily
"Stinky No 9" would be proud.
That was the moniker given to Ivan Li's father, a university professor, during the "cultural revolution" (1966-76), when intellectuals were routinely humiliated.
"Our family lost everything at that time except one thing, our love of good food," says Li, who has just won Diners Club's 2014 lifetime achievement award. He will travel this weekend to the award ceremony in Singapore, where Diners Club will also honor this year's list of 50 best restaurants in Asia.
Chef Li is the inheritor of Family Li Imperial Cuisine, a restaurant group that has made eating like an emperor possible for the rest of us.
That wasn't easy, despite the copious records and recipes they could retrieve from sources including the Forbidden City. The emperor was often served 100 dishes at a time - and not the same dishes he had the day before, says Li, who lacks the massive staff of kitchen help and serving eunuchs on hand at the Qing Dynasty (1644-1911) palace.
The Qing were Manchurians, and many of the game delicacies most loved by those rulers are not available or endangered, such as bear's paw - which Li himself remembers enjoying as a boy. Pigs in imperial days were butchered when they reached 25 kilograms, making them younger and more tender than most pork on offer today.
"Back then, it took six months for a pig to reach that weight, today modern farmers can achieve that in perhaps one month," he says. "But the texture and the flavor will be quite different."