Crayfish star in Guijie food street festival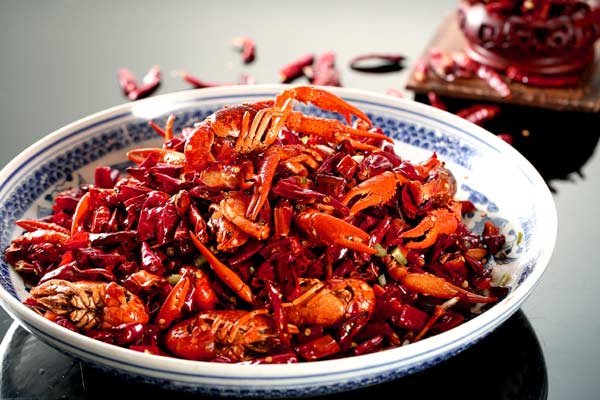 Crayfish star in Guijie food street festival [Photos provided to China Daily]
Hua's Restaurant is one of many taking part in the second Xuyi Crayfish Festival, which started on June 23.
At the opening ceremony, Hua's Restaurant, along with other restaurants that sell crayfish on Guijie, Beijing's famous food street, promised to give 0.1 yuan from the sale of each crayfish to public welfare.
To guarantee customers can enjoy healthy and tasty seafood, Hua's reached an agreement with Jiangsu's Xuyi city to supply what is renowned as the highest-quality crayfish in China.
From last year, restaurants on the street have held the Xuyi Crayfish Festival in collaboration with the Xuyi government. Guijie food street has been famous for its spicy crayfish dishes.
Hua's now offers 13-spice crayfish, a dish well known in Xuyi that features healthy herbs. At the opening ceremony, a crayfish banquet was served for dinner, with all 16 courses featuring the crustacean.
The highlights were mashed garlic with crayfish, salted crayfish and dry-braised crayfish. Two more new dishes — crayfish with black pepper and crayfish with Thai green curry — have been added to the menu.
Crayfish are not just tasty but have a high nutritional value. The crustacean contains high amounts of phosphorus, calcium, vitamins A, C and D, unsaturated fatty acids and other minerals.
According to Chinese medicine, crayfish is good for the kidneys and stomach, and replenishes the yin factor in the body.
Hua's Restaurant Guijie Courtyard House branch: 235 Dongzhimennei Dajie, Dongcheng district, Beijing.
010-5128-3315