Guo Meimei arrested for World Cup gambling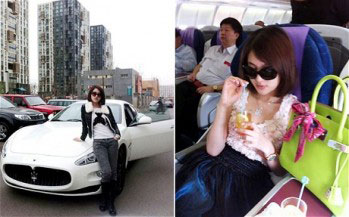 Guo Meimei poses in photos posted on her microblog in 2011, sparking accusations of corruption against China's Red Cross. [Photo/Sina Weibo]
Infamous internet celebrity Guo Meimei was arrested by the local police in Beijing on Thursday for Football World Cup gambling, Legal Evening News reported.
The criminal gang consists of eight members, Guo Meimei is one of them. They registered on an overseas gambling website and people can place their bets through telephone.
Guo has confessed her gambling.
23 year old Guo Meimei came into the spotlight three years ago for flaunting her wealth online and claimed to be a general manager of the Red Cross Society of China on her microblog, which led to a crisis of confidence for the society among the public.