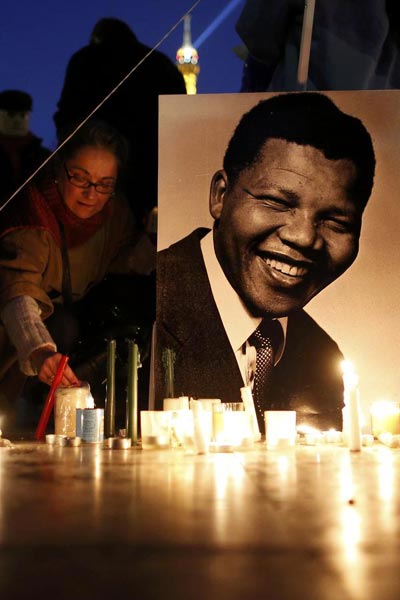 People place candles near a photo as they pay tribute to former South African President Nelson Mandela at the Trocadero square, in front of the Eiffel Tower in Paris December 15, 2013. [Photo/Agencies]
The film Mandela: Long Walk To Freedom, will be released in China on July 18 to celebrate the International Nelson Mandela Day of 2014, said the film producer Anant Singh here on Wednesday.
The movie will be taken to more than 1,000 screens in China by China Film Group Corporation, the state film distribution body.
Adopted from the autobiography of the same name which was written by South Africa's former president Mandela, the film told about Mandela's life from an early age, prison life, Presidency and after. The release of the film is to celebrate International Mandela Day.
"The release of Mandela: Long Walk to Freedom, in China is indeed fortuitous, especially as it is on Madiba's birthday and that it will be the first year that the world will commemorate this special occasion after his passing," said Singh.
"The film will provide an opportunity for Chinese audiences to celebrate Madiba's life and pay tribute to him as a global icon and leader who is revered and respected in China," added the producer.
This is the first time that a South African film is released widely in China on the same terms as the Hollywood studio films. The release will also coincide with the formalization of a two- year cultural exchange program between South Africa and China that was launched in Beijing in April.
"We are pleased that the release of the film takes place at the time of the country-to-country cultural exchange program between South Africa and China. We are also delighted that we are releasing Mandela: Long Walk to Freedom in China during a booming market for foreign films," said Singh.
Released on Nov 28, 2013 in South Africa, the movies has been the highest financial earner in the history of South African movies in five weeks.
The film will also be screened again but free of charge in South Africa on the Mandela day.
It will also be screened on the same day at the finale to the Rwanda International Film Festival and Ischia Global Fest on the Italian island of Ischia, as ell as at the Isola del Cinema in Rome, according to the producer.
Mandela Day is celebrated worldwide. Mandela is also revered worldwide for spending 67 years fighting for democracy, human rights and social justice.