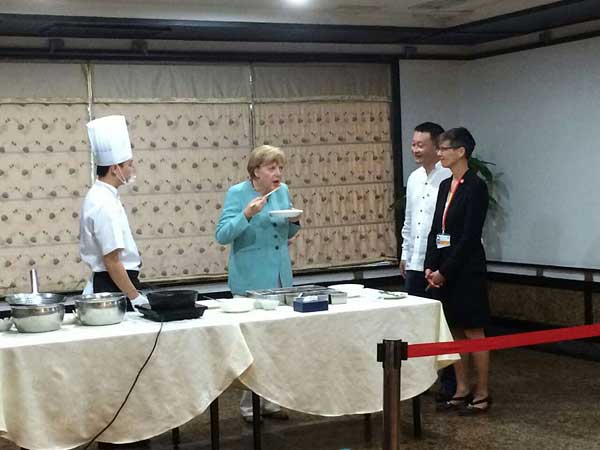 German Chancellor Angela Merkel eats kung pao chicken, a spicy Sichuan dish made with chicken, peanuts, vegetables, and chili peppers, at a Sichuan restaurant during her visit to Chengdu, the capital of Southwest China's Sichuan province, July 6, 2014. Merkel kicked off her 7th China trip Sunday in the Southwestern city, a place that German companies regard as a springboard to the relatively underdeveloped western parts of China. [Photo provided to China Daily]
According to a Xinhua Report from July 6, German Chancellor Angela Merkel visited the Shen Xian Shu market in Chengdu, capital city of Sichuan province. This is Merkel's seventh visit to China and Chengdu was her first stop.
"She willingly shook hands with me and asked me what's best item in my store," said storekeeper Wang Mingguang. With Wang's recommendation, Merkel purchased some Pixian bean paste for five yuan.
Her next stop was at another store where she was became fascinated by its diverse selection of seasonings. "She kept asking me the name of each spice," said Luo Xianli, the storeowner. Luo showed her all kinds of beans and peppers and Merkel ended up buying some anises. "She might have heard about star anises before since she immediately grabbed some as soon as she saw them," Luo explained.
Chancellor Merkel later visited a traditional Sichuan restaurant where she learned to make kung pao chicken, a typical Sichuan dish. "It is usually sweet and sour, and it contains ingredients including pepper and bean flour," explained Zhang Wei, the restaurant's head chef. Zhang described how to make it, demonstrating each step. As a soccer fan, he also congratulated Merkel on Germany's outstanding performance at this year's World Cup in Brazil.
After the dish was prepared, Merkel grabbed a pair of chopsticks and tasted it. According to Du Bing, the head of the restaurant, Merkel managed to finish a quarter of the dish and asked the chef if he had made any adjustments to according to her taste. "Although she didn't cook it herself, I think she got the point, but certain ingredients can be hard to find in Germany," said Du.
Overall, it was clear that Merkel was very interested in learning more about Chinese food culture and had a great first day in Chengdu.
Related: Produce market has surprise guest