The blue and the brave are stars of Paris fashion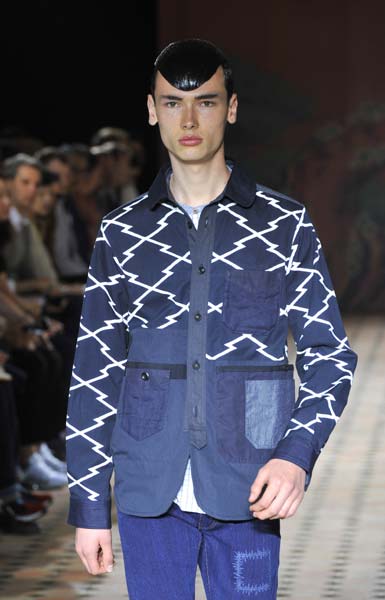 A model wears a creation for Junya Watanabe men's spring/summer 2015 collection. Zacharie Scheurer / AP
Junya Watanabe turned men's fashion blue on June 27 with a collection in every imaginable shade, while Maison Martin Margiela sparkled with a blend of daring and classic for spring/summer 2015.
Japanese designer Watanabe, who once famously told an interviewer he had no interest in the mainstream, kicked off Day 3 of the Paris shows with a rich tapestry of blue mixing everything from patchwork and stripes to checks and floral prints.
In one look, a double-breasted patchwork jacket was teamed with cropped trousers, slicked-down hair, heavy drawn-on eyebrows and flip-flops.
In another, a hooded jacket was given big, asymmetrical pockets and worn with striped leggings.
Maison Martin Margiela, meanwhile, embraced both classic and daring for its latest collection.
Nude-colored tops had panels heavily embellished with sequins and beading.
Other audacious looks included voluminous trousers on a bare-chested model and a jumper and long parka teamed with just underwear and two eagle tattoos above the knees.
Playful asymmetrical trousers came with one long leg and one short.
Another pair had each leg in a different fabric.