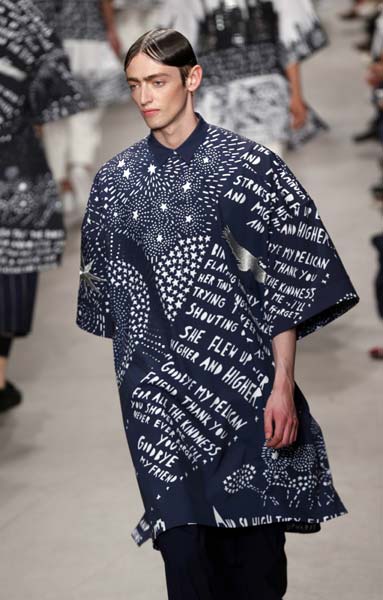 A model wears a creation for Junya Watanabe men's spring/summer 2015 collection. Zacharie Scheurer / AP
There was classic, too, with the house offering flowing parkas and trench coats, sleek suits and shirts in a palette of neutrals, navy, midnight blue, black and orange.
A day ahead of his Dior Homme show, Kris Van Assche also presented his own collection.
For his eponymous label, which is marking its 10th anniversary, the Belgian designer explored what he called the modern "hybrid garment".
"A pair of jeans isn't really a pair of jeans ... shirts become jackets," he says.
Van Assche, who went back to the 1980s and '90s for inspiration with bomber jackets and narrow ties, says the modern man knows how to mix things up.
"We're no longer in an era when it's either elegant or it's sportswear," he says.
Looks included a gray bomber jacket worn over an olive green shorts-suit with a gray shirt and beaded necklace.
Elsewhere, Korean designer Juun J took inspiration from one of the world's oldest universities with his "Oxford" collection.
The designer's take on Oxford bags - wide, baggy trousers once worn by students - was teamed with top halves that were part-jacket, part-shirt, part-jumper.
Pursuing the Oxford theme, there were plenty of blue-and-white stripes, plus silver and lots of white.
Juun J tells AFP backstage he was "toppling" rigid boundaries between "classical suits and sports".
The collection was "classic but sporty. It's different from other sport looks. I wanted to show chic, real style" he says.