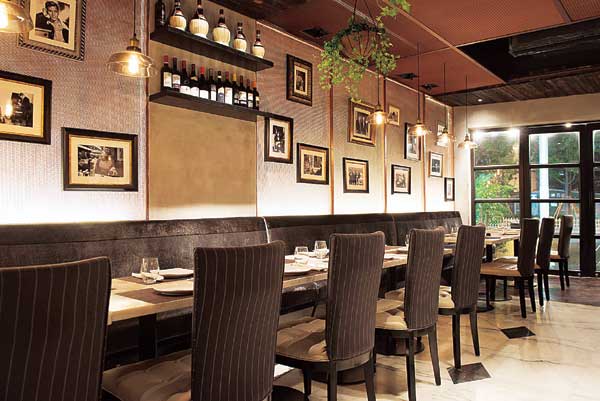 Atmosphere: The dining area of Goodfellas has a real Godfather feel to it, and its walls are adorned with interesting photos. [Photo provided to shanghai star]
Who'd dare to turn down a restaurant serving great Italian food with a generous side of cultural references from the mobster-movie genre? Antony Otera fronts up for a sit-down.
It's Sunday evening and I'm dressed in my best Italian gangster chic. I'm at the Bund and running from the mob — of Chinese tourists, that is — besieging me with silent supplications to pose for photographs. I find myself standing in front of Goodfellas Italian Restaurant. The name alone entices me to enter.
The first name on my hit list is my good foodie friend. I send for her via text message. (Alas, it's not personal. It's strictly business.) She arrives posthaste to join me at my table. The low lighting recalls the speakeasy-ambiance of Italian mobster lore. Along with the venue's name — which proprietor Marco Bettio unashamedly admits is a homage to the "wise guys" film of the same title — these elements make me feel like I've been transported to the set of The God- father or The Sopranos.
Adorning the walls of this intimate little eatery are black and white photos of various celebrities, as well as the odd gangster from yesteryear. An unflattering image of a nefarious–looking character hangs on the wall behind my dining companion alongside a photo of a very casual-looking Andy Warhol flanked by John Lennon and Yoko Ono.
I scan the room looking for a James Gandolfini (TV's Tony Soprano) look-alike to complete the Italian gangster feel. There's a fedora-wearing gentleman sitting at a nearby table with his back to me, long white hair flowing from beneath his hat. From behind he appears the closest thing here to what I imagine a 1920s' gangster, Italian- or Shanghai-style, may have resembled.
I'm so hungry I could eat a horse's head. My dining companion and I order an entree for two — tuna carpaccio, eggplant Parmigiana (layers of deep-fried eggplant with tomato sauce, mozzarella and Parmesan cheese), and Insalata Goodfellas (a salad consisting of baby spinach with pear and walnuts, seasoned with extra- virgin olive oil and lemon juice, and topped with shaved Parmesan cheese). It's a classic combination that whets the appetite. Pears and walnuts work so well together, like a "made man" and his faithful foot soldier. The flavors are light, fresh and clean-tasting.
While we're busy rubbing out our sensational salad, two sexy, statuesque brunettes with perfectly applied makeup and impossibly high cheekbones materialize at the table to the left of me. They look like they belong in a Victoria's Secret catalogue. A steady stream of giggles and Russian chatter flows from the pair. Their repartee is "sinfully saucy", says my Russian-speaking Eastern European companion, without elaborating further.