For food lovers, Xi'an is all about lunch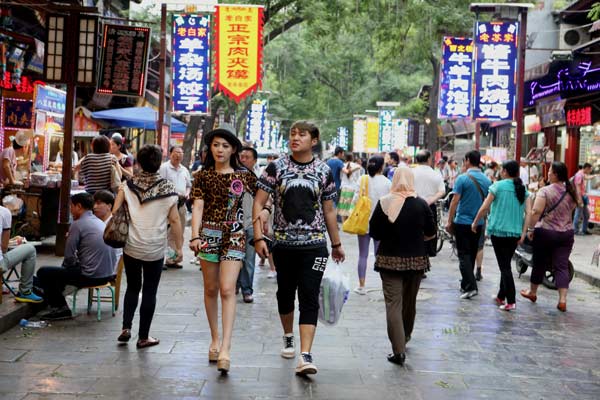 Roadside shops at the Hui community in Xi'an, Shaanxi province, are a street-food paradise.[Photo by Mike Peters / China Daily]
Everyone I know loves to visit Xi'an. The Terracotta Warriors are a must-see whether you are Chinese or a foreigner, and attractions like the Big Goose Pagoda and the still-intact city walls are a treat to explore by foot or bicycle.
But the thought of going to Xi'an makes me smile for a different reason: It makes me hungry. For me, no trip to the fabled gateway to the old Silk Road would be complete - or worthwhile - unless I could spend at least half a day roaming the Muslim quarter. The warren-like streets between the drum tower and the city's Great Mosque have been home to the Hui community for centuries.
This is a street-food paradise, where rouchuan (kebabs) are ubi-quitous, cheap and delicious. The vendors are mostly too busy and too reserved to be shouting at passers-by - this is not your big-city Silk Market - but they'd have plenty to shout about if they were so inclined. The lady on my left has gorgeous dried fruits, including beautiful doughnut-shaped persimmons lined up in rows - the sort that caravan drivers heading for Kashgar snacked on centuries ago.
The fellow at the next stall is serving up bowls of cold noodles in sesame sauce as fast as he can dish them up, while other vendors have a huge variety of candies and pastries that evoke a Turkish bazaar.
It's a challenge to keep my feet moving as I pass these: I have a sweet tooth that prompts me to stop for a nibble at every one. Most irresistible are the stalls where sesame candy is made on the spot.