Vietnamese street food goes Soho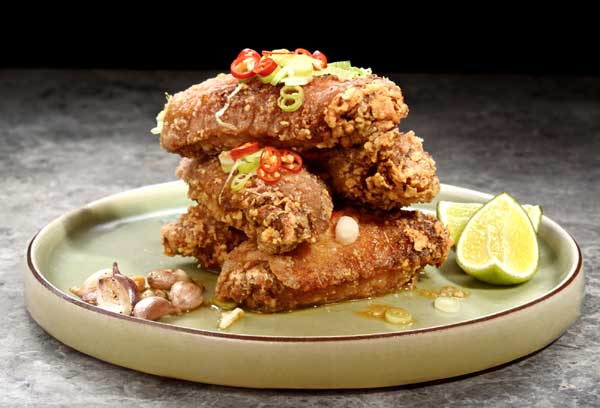 Vietnamese fried chicken wings are crispy on the outside and juicy on the inside. Photos by Donna Mah / for China Daily
Fresh and flavorful are the keywords in an updated cuisine spiced with relaxation and fun. Donna Mah examines the menu.
Inspired by the street food of Hanoi, chef Peter Franklin has opened Chom Chom Bia Hoi and Eatery in a cozy location on Peel Street in Soho.
Some may know Chom Chom, which mean "rambutan" in Vietnamese, from its days as a private kitchen on Wellington Street. But in its new incarnation, it is a casual and lively place that is drawing in the crowds.
With seating for 45, this smallish space with high ceilings and huge 100-year-old ceiling fans shipped to Hong Kong from Vietnam, was completely filled on the night we dined there.
Seating is intimate (or a bit cramped, depending on how you look at it), but the vibe here is modern, relaxed and fun.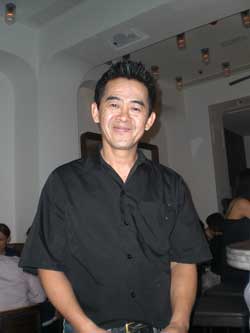 Bia hoi refers to the fresh draft beer that is delivered to drinking spots in Vietnam on a daily basis and is also used to refer to the social experience of enjoying a beer with friends streetside.
Franklin says: "At Chom Chom, we focus on the social culture of the bia hoi and a menu of flavorsome dishes inspired by the street food of Hanoi, dishes not normally the highlight outside of Vietnam."
One thing you will not find at Chom Chom is pho, the steaming hot bowls of rice noodles in soup. "There's more to Vietnamese cuisine than just pho noodle soups, bun sandwiches and drip coffee," Franklin adds. We didn't miss them at all.
We started off with a couple of the specialty cocktails - one Pho-jito and one Saigon Sour.
The Pho-jito had all the fresh flavors that I associate with Vietnam - lemongrass, mint and lime. The Saigon Sour was a frothy and slightly tart tipple. Both were deliciously cool and just right for the weather. A selection of craft beers is also served here.
The shrimp and roast pork rolls and the spicy tuna rolls were served with a fish sauce for dipping. The spicy tuna rolls were not too spicy.
The mango and papaya salad had crunch, citrus and spice; came with slices of lemongrass beef on the side; and was more than we expected.
The "VFC" - Vietnamese fried chicken - wings were crispy on the outside and juicy on the inside. The grilled beef in betel leaf, with the leaf wrapped around the outside to help keep the meat moist, is a dish I will definitely order again.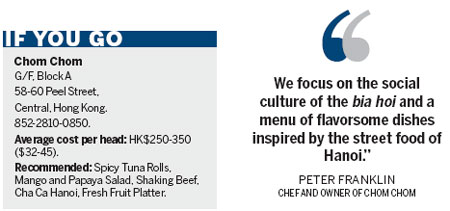 The shaking beef - cubes of sauteed beef tenderloin served with watercress and rocket salad topped with very small fried garlic cloves - was enjoyed by all with the cloves of garlic being especially popular.
The Cha Ca Hanoi - sole fillet with turmeric and dill - was crispy on the outside and tender on the inside, and served with rice vermicelli that had been tossed in a lime sauce. It was one of our favorites.
The Bun Cha pork skewers, grilled pork belly and pork shoulder, had a great grilled flavor, but the pork shoulder was a bit too salty for my taste.
Dessert was a colorful fresh fruit platter with a twist. The fruit was served with one sweet and one savory chili dipping salt that made eating fruit just that much more fun. Careful how much you dip, though, as you might just end up with a bit too much spice in your life.