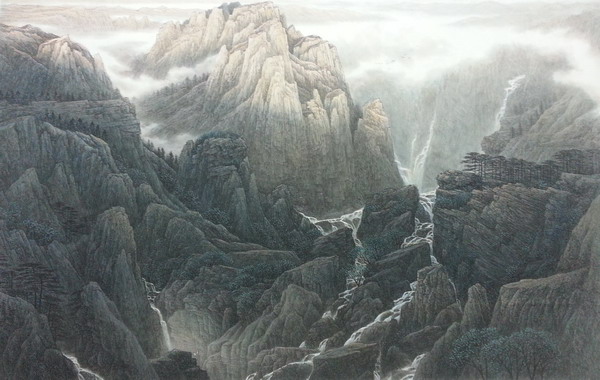 The "The Taihang Mountains" painting is on display at the exhibition. Photo by Deng Zhangyu
A show featuring Chinese ink paintings of landscapes, including the Yellow River and Taihang Mountains, opened on Wednesday at the Military Museum of the Chinese People's Revolution in Beijing.
On display are more than 80 ink paintings by 19 artists from North China's Shanxi province. The artists used their brushes to depict the beauty and magnificence of the Yellow River and Taihang Mountains as well as the Loess Plateau. Most of the ink pieces are big scrolls of gongbi style, and some are as tall as 3 meters.
Wang Xuehui, president of Shanxi Academy of Painting, said ink painters in Shanxi have their own unique style. They call themselves the Yellow River school because they grew up along China's second-longest river. The river is a common subject of their paintings.
IF YOU GO
8:30 am–5:30 pm, through July 13, 9 Fuxing Road, Haidian district, Beijing, 010-66866244