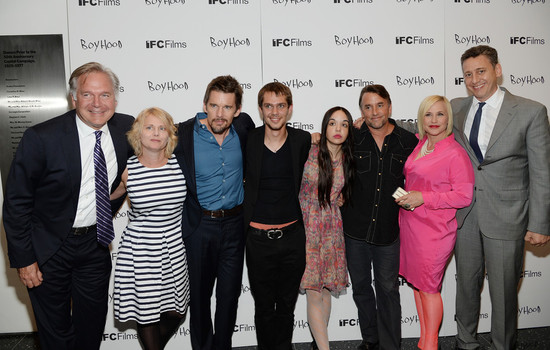 Jonathan Sehring, Cathleen Sutherland, Ethan Hawke, Ellar Coltrane, Lorelei Linklater, Richard Linklater, Patricia Arquette, and John Sloss attend the 'Boyhood' screening at Museum of Modern Art on July 7, 2014 in New York City. [Photo/Agencies]
Richard Linklater's Boyhood, shot over 12 years, has already been hailed as a landmark without parallel in movie history. It took a rare feat of commitment from Linklater and his actors, including star Ellar Coltrane, who was cast as a 6-year-old and wrapped as a 19-year-old.
But Linklater shrugs. To him, the movie patiently made by living its own subject, time-isn't anything audacious.
"It was no different than life itself," said Linklater in a recent interview with Coltrane. "When people say, 'Oh, it was really risky', well, I don't know. Compared to what? You're either alive or you're not. It was optimistic that we would all still be here 12 years from now. Statistically, it was probable."
What was less likely was that Linklater would pick the right 6-year-old boy out of auditions, only guessing at how adolescence and puberty would shape his star. Though it was a pact Coltrane (and his parents) made when he was barely conscious, Coltrane never waived. "I'm along for the ride," he says, upbeat that the film - "this little private thing", Linklater calls it - is finally coming out on Friday.
Boyhood is about an Austin, Texas, family of four: a boy named Mason (Coltrane), his sister Samantha (Linklater's daughter, Lorelei) and their divorced parents (Ethan Hawke and Patricia Arquette). The project - conceived by Linklater to chart Mason from first grade to high school graduation was so unusual that none of the cast could sign contracts for its duration. (The term limit is seven years.)