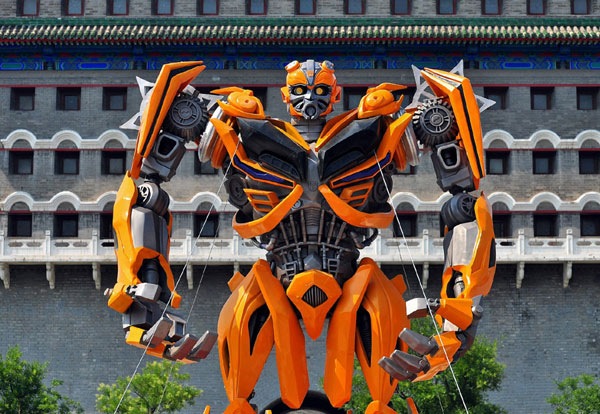 The Auto-Bots stand stalwart against the forces of evil on June 24, 2014, at a popular tourist spot on Qianmen Street in Beijing. The Auto-Bots attracted a wave of attention and pictures from Transformer fans and visiting tourists. [Photo/CRI]
China's box office sales totaled 13.7 billion yuan (about $US 2.21 billion) in the first half of 2014, up 24.7 percent year on year.
Thirty-three titles achieved ticket sales of over 100 million yuan, including 15 domestic productions that accounted for less than half of the total, according to the State Administration of Press, Publication, Radio, Film and Television.
"The Monkey King," an action-packed period fantasy based on a Chinese legend, led domestic titles with 1.04 billion yuan, followed some way behind by "Dad, Where Are We Going?" a reality TV show spin-off that took in 696 million yuan.
The market share of domestic productions shrank after May 21, when box office sales bypassed the benchmark 10 billion yuan, according to Entgroup, an entertainment industry consultancy. The change was due to the release of several highly competitive Hollywood productions, according to Rao Shuguang, deputy director of the Beijing-based China Film Art Research Center.
"X-Men: Days of Future Past", the latest "Godzilla," and Angelina Jolie's "Maleficent" all showed after May 21. American productions see the summer as one of their most important seasons.
"Many debut in the summer but there are not many domestic productions coming out to compete with them," Rao said.
"Transformers: Age of Extinction," the fourth installment in the robot franchise, earned 630 million yuan in its opening weekend, leaving "The Breakup Guru," a domestic romance, far behind.
"The Breakup Guru" grossed 154 million yuan in the week ending June 29. It was the only domestic production to make the top five that week.
Zhang Yiwu of Peking University, echoed Rao's view, saying that American producers are attaching greater importance to the Chinese market, while Chinese producers struggle to make competitive movies.
"The market share is not surprising," said Zhang.
China is the second-largest film market after the United States, with a total box office near 22 billion yuan in 2013 and expected to reach 28 billion yuan this year.