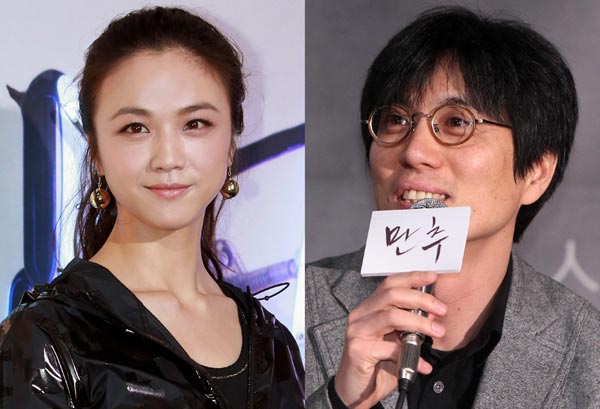 Chinese actressTang Weiand her fiance Kim Tae-yong, a South Korean director. Photo provided toChina Daily

Chinese and South Korean film industry has moved closer to each other, from performers to governments, as top leaders from both countries pledged to strengthen cultural cooperation.
South Korea and China signed a "landmark" pact on Thursday to expand cooperation efforts in joint film production, a move that could pave the way for facilitating the advance of South Korean films into the Chinese market, Yonhap News Agency reported.
"South Korea-China co-productions, once recognized as China's homegrown films, can bypass China's limitations on foreign movie imports, so the pact would facilitate the South Korean film industry's advance into the Chinese film market," Seoul's Ministry of Culture, Sports and Tourism said in a statement.
The pact came shortly after President Xi Jinping and his South Korean counterpart Park Geun-hye in Seoul vowed to promote cultural and people-to-people exchanges on Thursday.
It also came one day after a sudden announcement of the engagement between Chinese actress Tang Wei and South Korean director Kim Tae-yong.
Tang, 34, and Kim, 44, met in late 2009 while filming the South Korean movie "Late Autumn" and are now planning to tie the knot this fall.
China's film market, the world's second largest, will surpass theUSfilm market by 2020, according to an Ernst & Young report.
But China has a quota system for foreign movie imports, which currently stands at 34 titles a year on a revenue-sharing basis.
The two neighbors began discussions on the film cooperation pact in August 2011 amid the Asia-wide boom of South Korea's TV dramas and films in China.
China's Culture Ministry said it will step up efforts to boost exchanges and cooperation in the cultural content industries of the two countries with the signing as an occasion, Yonhap reported.