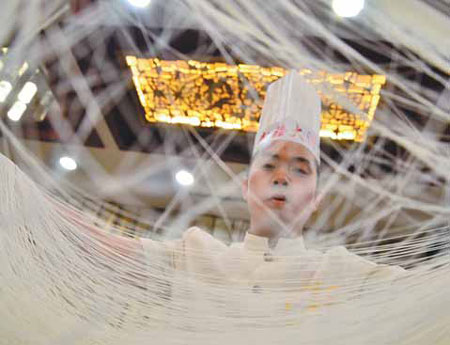 Diners at the Jinyunlou restaurant in Taiyuan are treated to noodle-making performances. Aung Htay Hlaing / Myanmar Times
If you think Chinese noodles are just thin, long strips of dough, think again. In Taiyuan alone, you'll find a remarkable variety of sizes and shapes. There are short and tapered ones that look like little chilis, flat and wide ribbons, slivers with ragged edges, thin square pieces, as well as ones shaped like cat ears.
Taiyuan, the capital of the northern province of Shanxi, dubbed "the home of wheaten food" in China, considers noodle making an art. Some local chefs can produce up to 260,000 noodle threads from 1.5 kilograms of dough, while others have filled a bowl with a noodle strand hundreds of meters long.
In one of the city's traditional Shanxi restaurants, Jinyunlou on 188 West Tiyu Road, diners are treated to noodle-making performances. Guests might see one of the cooks doing the hula hoop while scissor-cutting a piece of dough, or riding a unicycle while shaving pieces off the dough sitting on his head.
But these noodles aren't just for show. Shanxi's knife-shaved noodles, or daoxiao mian, are the third most popular noodles in China, according to a ranking released by the Chinese Ministry of Commerce in 2013. (The top spot went to Wuhan's hot dry noodles, followed by Beijing's fried sauce noodles.)
Even the most serious low-carb dieters have been known to also succumb to Shanxi's iron stick-chopped noodles, or cagedou, and hand-pulled strips, or hege mian.
The geography, climate and soil that are well suited to growing the wheat for these noodles also produce other grains used in brewing Shanxi's famous vinegar. The smoky and sweet dark-brown liquid, known as "mature vinegar" or laochen cu, is considered by many to be the best in China.