Hundreds of revellers have gathered in Spain for the country's annual famous fiesta, the San Fermin bull-running festival.
Many runners have been injured down the years, and Bill Hillman, co-author of a book called Fiesta: How To Survive The Bulls Of Pamplona, is among the festival's latest casualties.
But the Running of the Bulls is not the only festival on offer for thrill-seekers.
Here are some dangerous festivals from around the world:
1. Running of the Bulls, Spain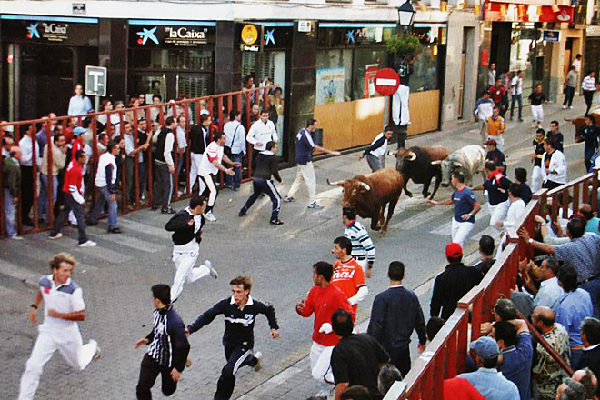 The festival's highlight is the daily test of courage against a pack of 500-kilogram fighting bulls through the city streets. [Photo/Australiaplus.com/Chinese]
The focal point of the festivities is the bracing daily test of courage against a pack of 500-kilogram fighting bulls thundering through San Fermin's cobbled streets.
At 8:00am crowds of people race with six bulls, charging along a winding 850-metre course through narrow streets to the city's bull ring.
Last year 50 people were taken to hospital, including an Australian woman who had been gored by a bull.
Hundreds of people are injured each year - usually from falling to the ground in the commotion - while more than a dozen are believed to have died since record-keeping began.
The festival grew out of a need to transport the bulls from where they were kept in town to the bullring. Young men would often follow them to demonstrate their bravery.