Tonghua to transform into a wine city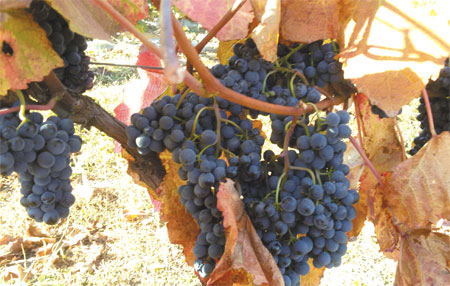 Grapes grown in the region have small seeds, thick skins, low-sugar content, high acidity and rich organics, making them ideal for producing wine. Liu Mingtai / China Daily
New efforts
In recent years, in line with the national strategy of "revitalizing the Northeast", Tonghua has made efforts to transform its resources into economic and brand advantages. The city has particularly focused on developing the wine industry by supporting major wine companies to upgrade capacity, promoting merging of small producers and encouraging the development of grape-production areas such as the Yalu River Valley.
As a result Tonghua has greatly increased its capacity in wine development and production and further increased its advantage as a base for grape and wine raw materials. A complete industrial chain for wine, covering cultivation of high-quality grapes, juicing, fermentation and wine making, has been formed.
There are now 61 wine producers in Tonghua who make 300,000 tons of wine annually that consist of more than 40 types.
In 2013, the city's 15 major wine makers produced 69 million liters, with a total value of 2.1 billion yuan.