Fresh ideas on fast food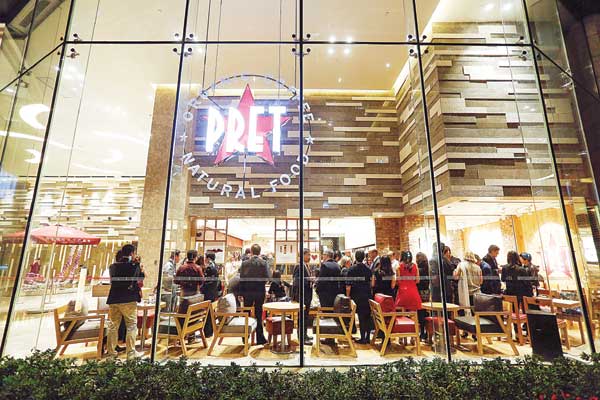 ON THE GO: The new Pret A Manger store in Shanghai o ers a variety of pre-made meals. [Photo provided to Shanghai Star]
British sandwich chain Pret A Manger has opened its doors in Shanghai, offering food on the run for busy urbanites. Xu Junqian checks it out.
Do you know how long the sandwich you ate for lunch was sitting on the shelf for?
At the new Shanghai branch of Pret A Manger, the British sandwich chain with locations across the world, all the food, such as the wholegrain-beech-smoked-bacon Super Club sandwich, was made between two to eight hours before purchase.
City-dwellers love fast food for its convenience, speed and service. Pret A Manger, which started in London, has taken the things people love about food on the go and given it an extra dose of freshness.
Sandwiches, wraps and baguettes
Among the long list of sandwiches, hot and cold, the Scottish salmon and British cheddar are staples that are offered at the chain's stores around the world. There have been some tweaks for local palates – there is slightly less mayonnaise making them lighter and less creamy than American style sandwiches, which often leave the impression of having toothpaste made of mayonnaise pressed into my mouth. The crayfish and rocket is the best of the lot.
As winter is just around the corner, we tried the hot wraps from the special heated shelf. Our favorite is BBQ pulled pork. Not only is the amount of meat refreshingly adequate – not making you feel like you are eating "half a pig" rolled in a wrap, but the seasoning is flavorful and finger-licking good.
There are a limited number of baguettes. The famous ham and cheese is missing, and the three that are on offer, chicken Caesar and bacon, cheddar and pickle, ham and tomato chutney, fail to hit the mark. But the crispy, yet not too crusty, baguettes eclipse most of the rock hard versions served in many bakeries in Shanghai.