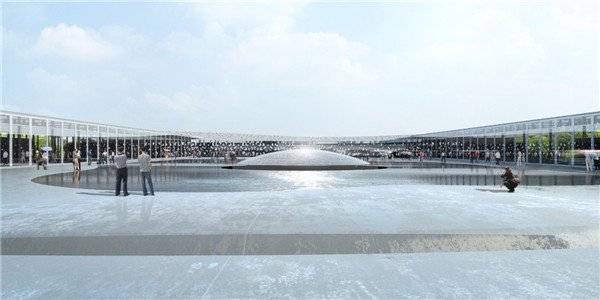 Artistic impressions of the planned National Art Museum of China, to start construction next year: the grand terrace facing the sky. Photos provided to China Daily
The National Art Museum of China, at twice the size of Louvre, is set to be the world's largest, Deng Zhangyu reports.
Home to many museums and art galleries, Beijing will anticipate the world's largest art museum when the new National Art Museum of China begins construction next year, say officials with knowledge of the design of the planned structure.
"If we put in parallel the Palace Museum with the Louvre, the National Museum of China with the Orsay Museum, we think the new museum should play a role like the Pompidou Center does for France, " says the museum's deputy director Xie Xiaofan, speaking at a public forum last week.
NAMOC, the planned museum's acronym, has held a series of discussions on what kind of an art museum China needs after it announced in September that French architect Jean Nouvel would spearhead the project design along with the Beijing Institute of Architectural Design.
The new museum of nearly 130,000 square meters, twice the size of the Louvre, will stand on Beijng's axis and next to the Olympic Stadium. The vast art museum will be Beijing's new culture center together with two colossal complexes, the Chinese Classics Center and an exhibition center for Chinese crafts and cultural heritage.
Plans call for permanent and temporary exhibition galleries, research and education centers, reserves and public space, and a service sector. NAMOC will house collections of more than 100,000 pieces from the Ming Dynasty (1368-1644), featuring ancient Chinese paintings, calligraphy, etchings, folk art, sculptures and videos.